Shopping for your partner is never easy, regardless of whether it is for Christmas, or a birthday, or any occasion where gift giving occurs! That being said, if your partner is a One Sixth Scale collector and you are not, something that is not easy to begin with becomes nearly impossible. With hundreds of figures on the market, it is overwhelming for someone not entirely familiar with the products to pick something out for their partner. For this reason, One Sixth Society wants to help you pick out a special gift for your partner by asking a very simple question; Which Hot Toys Figure Should You Buy for Your Husband?
To simplify the purchasing process, we want to refer to three simple points, and those are 1) Your Partner, 2) Their Collection, and 3) Reviews.
Which Hot Toys Figure should you buy for your husband? Obviously the first thing that needs considered when buying a One Sixth Scale figure for your partner is your partner themself. What kind of things do they like? If they are a fan of 80's films in general, you may want to see what Hot Toys figures are in stock at Sideshowtoy.com. See what fits into that category. If they like 80's films, something like the Hot Toys Aliens Alien Warrior One Sixth Scale figure may be a good gift. If they are a fan of the Star Wars films, Hot Toy's One Sixth Scale Kylo Ren figure would be more appropriate. When thinking about this step, it is also important to refer to our 2nd point; your partner's collection.
When considering buying a one sixth scale figure for your partner it's important to consider what things they like. But you don't want to get them something they already have. Hot Toys has made figures that are very similar to others, as well as reissues or remakes of older figures. You should try to make sure that you are getting them a figure that they do not already have. Get them something that will compliment what they do have. To pick an effective gift for your partner, make sure that you are not only taking into account what kind of things they are interested in, but also what they already have on their shelves.
Getting The Most Value for Your Money!
Perhaps the most important thing to think about when buying a One Sixth Scale figurine for your husband is the quality. For the collector quality is everything. You want to make sure you're getting the most bang for your buck. In order to do this, you should look online for reviews of the figure that you're buying. Look at customer testimonials from other people who have previously purchased them. You can also refer to our companion article for the holiday season from this year. Additionally, you will want to compare retailers that may all be carrying the same figure. Sideshowtoy.com carries Hot Toys figures and typically has some form of discount code or promotion going on. T0hat would allow for a bit of a discount. Other sites, such as bigbadtoystore also carry Hot Toys figures, and should be checked out as well.
One Sixth Society in its due diligence to enlighten the 1:6 hobby community at large offers some recommendations for those who seek enlightenment! Well enlightenment in their quest to procure a worthy gift to their significant other without necessarily breaking the bank. NOTE: All of the gift/product recommendations are currently listed as pre-orders at Sideshow Collectibles (sideshowtoy.com) unless otherwise stated.
BLACK WIDOW | $219.99 USD
Marvel's cinematic universe's premier femme fatale have been represented in 1:6 scale from her debut in Iron Man 2 to her team outing in The Avengers and subsequent appearances in Captain America: The Winter Soldier, Avengers: Age Of Ultron and most recently Captain America: Civil War. The latest and newest itineration of the character is from Captain America: Civil War and her design and likeness is breathtakingly captured and presented in 1:6 scale. Black Widow is a secondary character where she is at the forefront of much action and story, but her presence always adds complexity and mystique given the nature of her character and will do so likewise as definite addition to any 1:6 Hot Toys collection compromised of 1:6 characters/figures from The Avengers to Captain America and Iron Man.
FALCON | $234.99 USD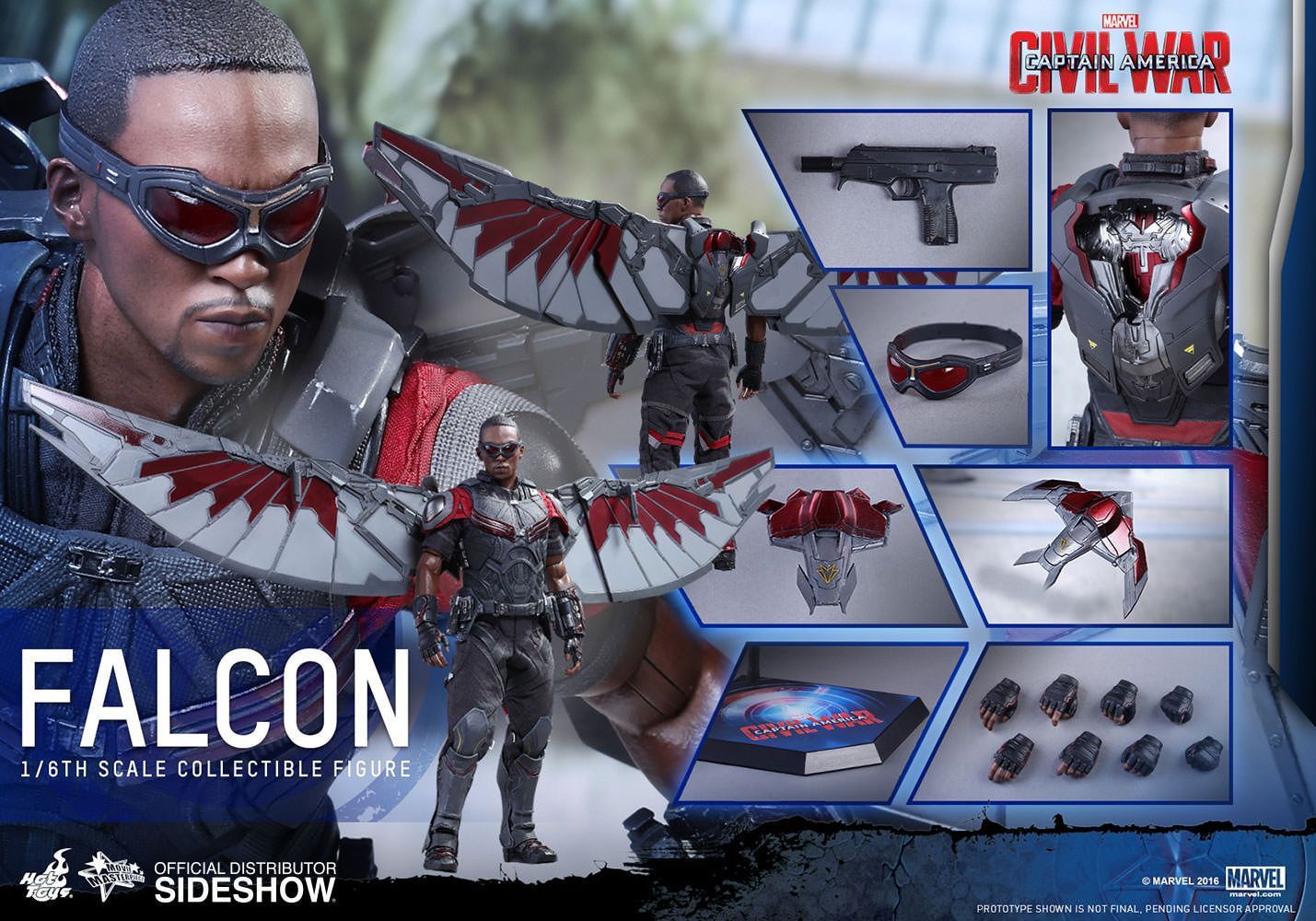 The Falcon made his cinematic debut in Captain America: The Winter Soldier and also as a 1:6 figure from Hot Toys. The newest version of the figure is based on his appearance in Captain America: Civil War. Hot Toys enhanced and upgraded the figure's design based on the film including a detachable and separate Redwing drone. It's an impressive design in terms of presence and visual aesthetics compared to other 1:6 scale Hot Toys offerings. But will make a grandiose and striking gift to the discriminating Hot Toys collector.
HAWKEYE | $219.99 USD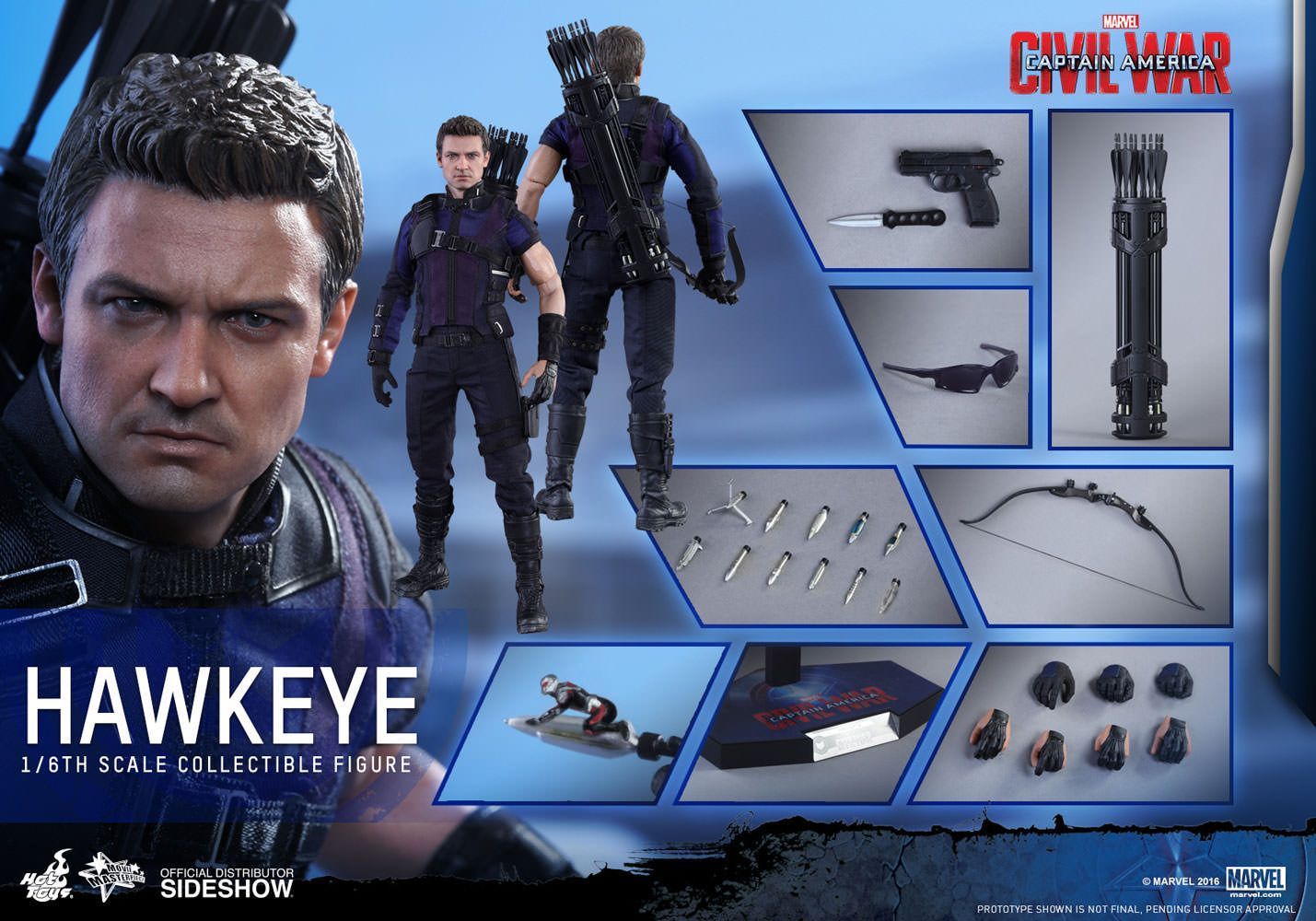 Often when someone asks "which Hot Toys figure should you buy for your husband" I try and think of a unique recommendation. Something that not everyone will have in a collection. The determined, but action ready Avenger Hawkeye makes his third foray as a 1:6 figure further refining his design based on his first appearance in The Avengers and Avengers: Age Of Ultron. His latest design as seen in Captain America: Civil War continues to add aesthetics, nuances, and subtleties. However, the master archer is still primed for action in terms of consistency and ready to take an aim as on target gift ready to pierce into a 1:6 collection on the bullseye.
IRON MAN MARK XLVI | $189.99 USD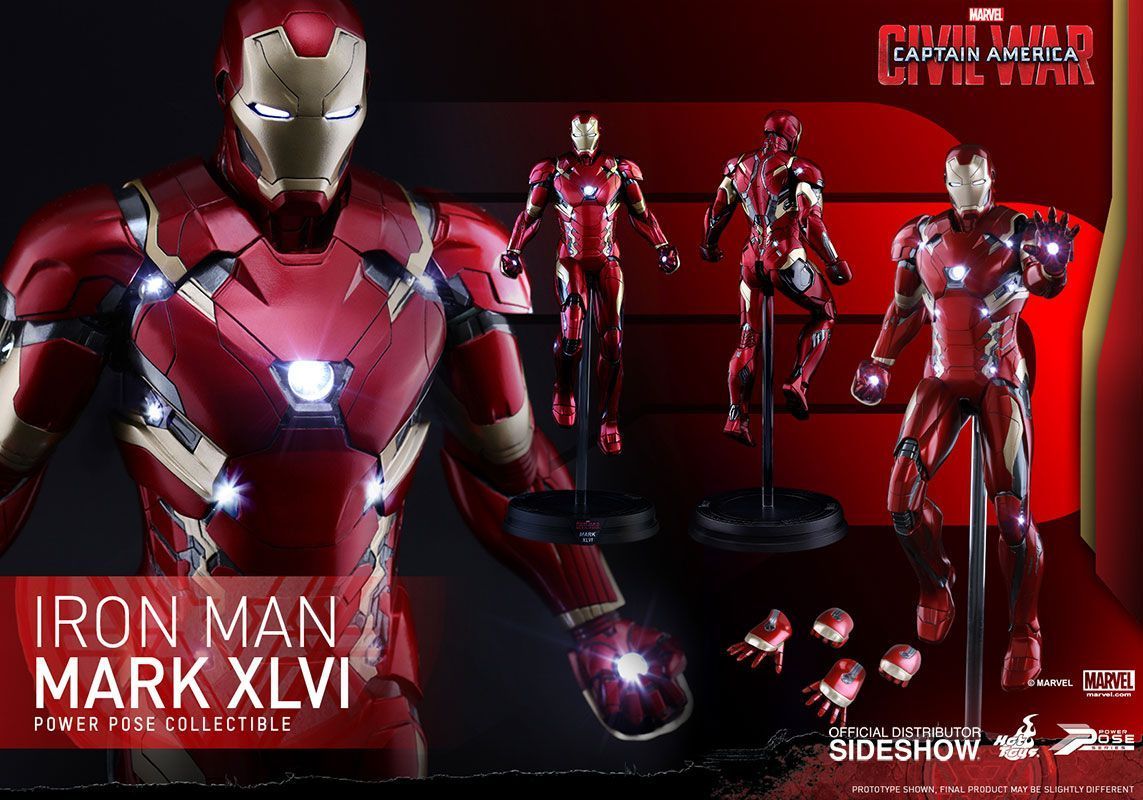 Iron Man / Tony Stark have been a mainstay in the Avengers film series as well as his own film series. His addition as an antagonist/protagonist in Captain America: Civil War brought new dimension and perspective to the character. Which Hot Toys Figure should you buy for your husband? Well Hot Toys makes an awesome Iron Man!
His appearance/outing in the MARK XLVI configuration of the armor suit is no exception. This version of the 1:6 figure from HOT TOYS is very reasonably priced compared to their die cast and more complex versions. Versions of the figure in a different MARK itineration of the armor suit while maintaining a striking visual appearance in terms of paint schemes. Indeed, a core addition to any 1:6 HOT TOYS collection.
HARLEY QUINN | $249.99 USD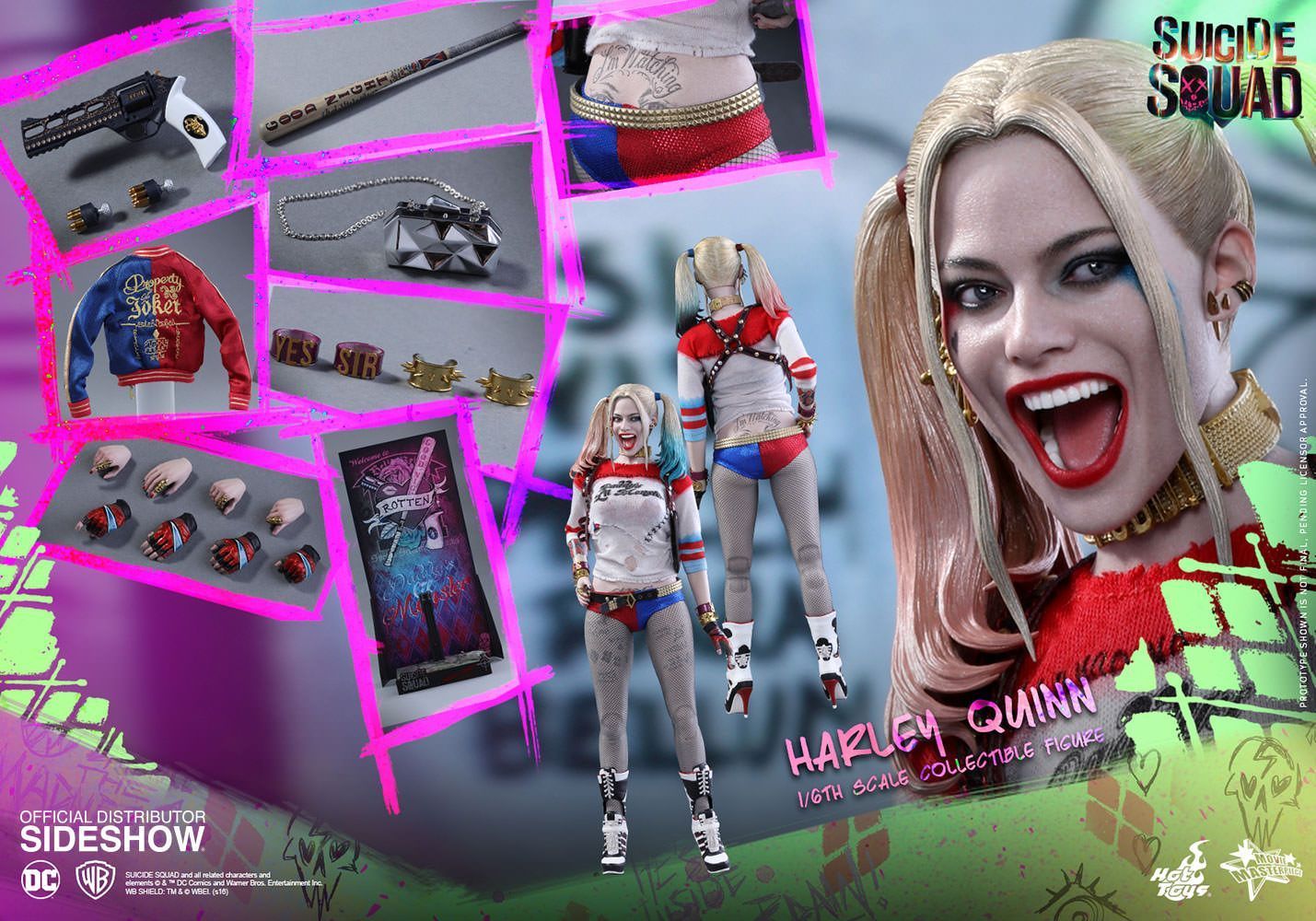 Suicide Squad was an interesting DC cinematic universe offering just outside of the Batman and Superman realm from Hot Toys. One of most memorable if not The Most Memorable characters from the film is Harley Quinn. Portrayed with delightful and manic confidence effortlessly, Hot Toys managed to dead on capture the character in 1:6 scale. Though the figure is not scheduled for release until mid-2017, it definitely makes the list of as must have for 2017. This one will be popular for many collectors due to the resounding popularity of the character.
We hope that this guide made buying a One Sixth Scale figure for your partner a bit less intimidating. And a bit more simplified. So which Hot Toys figure should you buy for your husband? With so many figures on the market, you can definitely find a fantastic figurine that will be a gift they won't soon forget.