I've said it before and I'll say it again, my favorite thing about One Sixth Scale collecting is custom artists. As a collector first I can safely say that I would not be as interested in this hobby as I am without being able to look up to these amazing talents. We previously spoke to Cheung Kinmen and today we have another special guest, Rainman Artwork!
We reached out to Rainman, who graciously agreed to answer some questions for us. We began working on this interview in May of 2017. One Sixth Society hired a professional Korean American translator. We had his answers translated to English as Korean is his native language. It was a huge pleasure to be able to have some insight into one of the most talented and well recognized Sixth Scale Artists in the world! We hope you'll enjoy these questions and answers.
 The Interview
Question #1
Can you tell us why you chose the name Rainman?
Strangely, I really like rainy days, along with the accompanying sound and scenery. I needed to come up with an idea for a name and I thought "why not go with what I like?" From there I decided to use Rainman. Since then I tend to work better on rainy days, I play a CD with sounds of rain when I'm working sometimes.
Rainman
Question #2
What was your favorite toy as a child?
When I was little, I really preferred drawing rather than toys. When I look back now, it's easy to say that I probably have liked to play around with my hands more often but my childhood dream was to be a cartoonist. Even up until I found out about the 1/6 scale figure hobby, I always wanted to become a cartoonist and I'm still always drawing something.
Rainman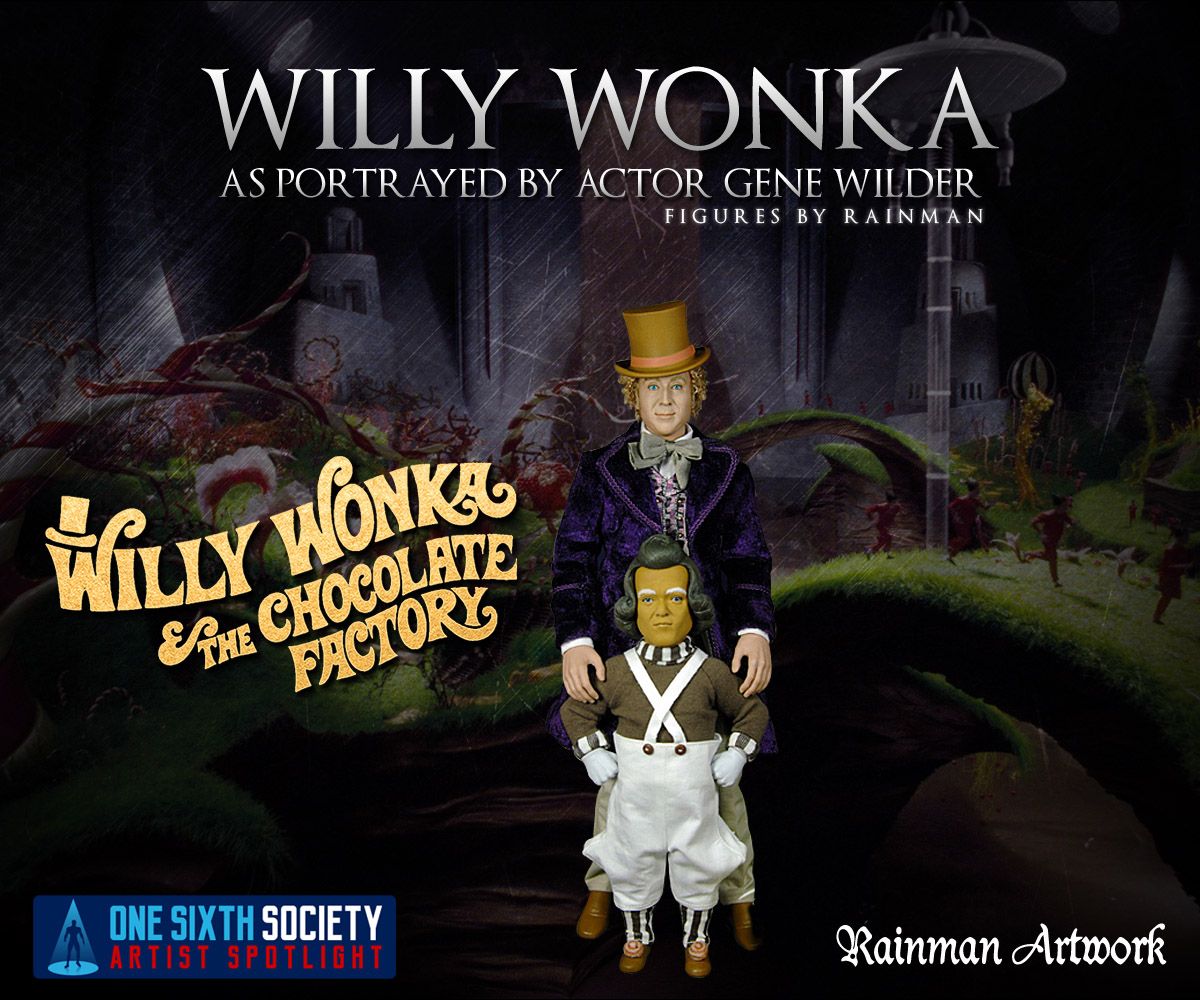 Question #3
What is your top 2 favorite films and why?
First of all, my favorite film is "Alien 2″(Aliens) and because of its cultural shock, it's always a new world to me even though I've watched it over 20 times. Other than "Alien 2" I'm not picky when it comes down to films so it's hard for me to pick the second favorite. Normally, it comes down to horror films, they are favorites for me. Films such as "Hellraiser", "Friday the 13th", "A Nightmare on Elm Street" and more. I have a self-proclaimed obsession with horror films. However, I do not choose a movie unconditionally. I look for the storyline, actors' performances, method of expression and etc. Even though I'm a horror maniac, when it comes down to its genre, I get picky before I watch something, so I try to avoid B-Grade movies.
Rainman
Question #4
Can you remember the first time you ever saw a sixth scale figure?
I think the very first 1/6 figure that I've witnessed was the 'Seven Samurai 7' 12inch figure complete set – Alfrex Samurai Figure. I saw the figure when I went to my friend's workplace and at that time I was attracted to the Samurai culture. And maybe I was also attracted to the fact that you can express many things on 1/6 scale. In fact, I was making busts smaller than 1/6 at the time but I had such a confidence that I can add more detail if I was to make it. But there is nothing easy in this world and it is still difficult for me.
Rainman
Question #5
Who are some of your personal favorite sixth scale artists?
Since I first learned about the one sixth scale hobby, I've also came across many outstanding artists such as Jack (Xenoviper), who made "Driver" and "Dexter", Scott (Velvet Morning), who made Bill the Butcher before I did, Arnie (Arnie Kim), who's a huge fan of Bruce Lee, Cheung 'Johnny' kinmen, who's always showing continued hard work, Adam Gu, who I recently just came across and many more artists that I can't think of right now off the top of my head. I can understand their hardships such as maintaining their position and their values as artists, I've learned from them, still learning from them and will always learn from them.
Rainman
Question #6
Which figure that you created are you most proud of and why?
It has to be Bill the Butcher because it made a clear mark of my name to many people. Daniel Day Lewis was someone that I've always liked before I made Bill the Butcher (I fell in love with his charm in "The Last of the Mohicans") and I think Bill the Butcher was the fastest head that I've made while watching the movie. The Bill the Butcher's headsculpt took me 3-4 days while some other heads have taken me about 20 days. Bill the Butcher figure may be the figure that I have sold the longest, as well as the most. Since you would have to share the same mindset as the character that you're making in order to produce a top quality figure, I think I might have been fighting on the snowfield and smelling the blood in the dust.
Rainman
Question #7
How do you feel when you see a character you created (such as Willy Wonka) be mass produced by a company?
It's a sensitive subject from a sculptor's position. Everyone has portrait rights and every work has a copyright. Frigidly, I can make it but I do not have the right to sell it. If I was rich then without a doubt in my mind, I would purchase a copyright and portrait rights and sell the figures. However, for someone like me, those prices are impossible for me to even imagine. In a sculptor's position like myself, I should be thankful that companies with licenses aren't asking me to reimburse them with every amount of figures that I have sold. The reason I'm saying this is because if I purchase Willy Wonka's license for a huge amount of money and someone else is using my license without my permission for one's own benefit then I would be very upset. I think this can be a double-edged sword.
If the collectors can purchase a mass produced figure under a reasonable price then it would be good news for them. But for others who have paid a huge amount of money to a custom artist, it could be bad news for them as well. It's inevitable that same or similar figures will come out in the future.
Compared to something that gets produced from an automated system in a factory, the value and the quality of a custom figure from an artist that spends time brushing a single stroke after another with a case of brushes is completely different. You can also say that he's an artist that you like and after that you have decided to pay that much money to that artist to support them. But if you think the value of the custom figure that you've purchased is no longer there because a similar figure came out at a quarter of the price, I think that is just in your mind.
Other companies are purchasing licenses so that they can sell as many figures as they can. It's an obvious choice for them because they can survive by making popular figures that will sell a lot. There will be people that will welcome these figures, there will be people that won't and we just have to accept that within the hobby. And you must know for sure that the former and the latter can be done at the same time.
Rainman
Question #8
What other hobbies do you enjoy when you are not creating figures?
These days I ride my motorcycle a lot. I'm not a big fan of speed but I think I like the thrill. And I always watch about 2-4 films while I'm working or when I'm resting. Taking pictures for me is an extension of my emotional expression, so I always enjoy taking pictures with my phone or camera. I also enjoy filming in addition to still photography.
Rainman
Question #9
Many consider you to be the best custom figure maker in the world, how does that make you feel?
Hahaha~ I'm far from it. I don't know where that came from but I really can't accept it. I know myself very well and I'm still lacking in many areas and I struggle with patience. That's why I still make many mistakes and I get complaints. If people like me as an artist, I believe that's a love that fulfills me enough. There are many talented artists around me that work much harder. But if there is one thing that I'm proud of then I can say I've made a variety of things like robots, dinosaurs, monsters, women, soldiers, 54mm figures, 120mm figures, 200mm figures, 1:1 scale figures and I even made an architectural model for over a year (my major in high school was architecture). I have to say that I'm proud that with all those different experiences in the past, I'm able to make almost everything with my hands.
Rainman
Question #10
Sometimes collectors complain about the price of custom figures because they are expensive, what would you say to someone who complains about the price of custom figures?
Yes, it's true because the DX sets can go up to $1,200 – $1,400. It's definitely not a small amount of money. However, it's a big burden on sculptor's shoulders when it comes down to creating limited edition figure sets.  I'll always have to make another figure that I've never made before. If I succeed every time then I can worry a little less but that's not the case. People deal with failure and success in order to become stronger in life. Working from a failure to a success takes time. When you price a figure, you don't just price it roughly from the top of your head. Depending on the number of figures bodies, the purchase price is different and the price varies according to the number of clothing sets.
The price is also different depending on the quantity of the casts as well. If you have prepared 50 pieces but only sell 30 pieces, you have to hold onto those remaining 20 pieces in your inventory. But of course, I have to make all the payments from the 50 casts. Because of this, the majority of artists do not live a prosperous life. So, whenever I make a figure, I always worry and have certain expectations. In some ways, I'm living a more dangerous life than a salaried worker because I have no fixed income. If the figures sell well then I can make the next figure more slowly. Its a dream of mine to make figures everyone can afford to buy. But right now thats almost a impossible goal for me to achieve.
These custom figures are not produced by machines but it's from my sweat and effort. I have to sit down on my chair for countless hours and have great passion to make a figure. A herniated disc, reduction in my eye sight while looking at the headsculpt with squinted eyes takes a toll on me. Think of it like a battery, and every figure drains both me and my family. I know high prices are difficult to grasp at times, I hope my customers understand where I'm coming from and have a little compassion for me and other artists.
Rainman
Question #11
Are there any secret figures you created but never showed the world, if yes, can you tell us about just one?
Haha I do not make anything secretly because I like to make things to show people and also to get input from them whenever possible. However, sometimes there is a request from the person who ordered the figure to keep it a secret. In that case I have an obligation to keep the secret, so those figures may never be shown.
Rainman
Question #12
What made you decide to become a custom sixth scale figure artist and what year did you begin?
It's been about six years now. Before that, I just made figures and busts. As a child, becoming a figure artist wasn't my dream. I came across the sixth scale hobby accidentally and I was instantly hooked! Frankly, I also had to make money. If I could do what I liked then why not give it a try?
I always try not to do only 1/6 scale figures. There is a lot of personal ambition in me, and other scales are definitely attractive. To be honest (it might be shocking), 1/6 scale figures are slowly becoming the most unfavorable genre that I want to make. There are many reasons behind this. One is the mental burden of making the likeness of an actor, the fight between the fans who support the artist and the fact that I have to make dozens of the same figure like a machine. It is always a hard process for someone like me who did not major in art to create these pieces.
I do not want to see the collectors argue with each other. Among the people who have the same hobby, people argue about things like "The artist that I support is the best", "You guys are just a copycat", "get lost" etc. When I saw Bill the Butcher that Scott made, I was impressed and I wanted to make it just as well and I wanted to give joy to somebody. I told Scott that I wanted to make it myself and he was looking forward to seeing my version of Bill the Butcher. It's the same thing with Jack. We became good friends but I've learned that not all the sculptors are like that. I've gotten a message saying "do not make it because it's mine". For these and other reasons, I have a feeling of uncertainty with 1/6 scale custom work as time goes on. But because there were fans who always gave me strength at no cost, I can stand tall. If it wasn't for them, maybe I wouldn't be here right now writing this and I would have probably ended up somewhere else making other figures, haha.
Rainman
Question #13
If you had to pick just one Hot Toys figure to add to your collection, which one would you pick?
Fortunately, I already own that figure. When I first noticed Yulli (Yulli Choi, Hot Toys Sculptor), it wasn't just the quality of her headsculpts that impressed me but it was her enthusiasm and warm heart as well. We stayed in contact with each other talking about the philosophy and techniques of molding. She later started to work for Hot Toys. A few months after she began her new job, a strange box arrived at my house. The Joker DX01! Even though I wasn't able to help her much as a sculptor, she became a wonderful sculptor on her own after she joined Hot Toys! I don't think there is any other figure out there that is as special to me as this one I received from her.
Rainman
Question #14
Can you tell us a little bit about any new projects we might see in the future from you?
Nothing has been decided for sure yet. One day I might decide something suddenly or it may take a little longer. I personally want my next project to be something with a lot of blood and from a horror film.
Rainman
Question #15
What does your family and friends think about your work as a figure artist?
Haha, I'm just somebody who makes dolls to my family and friends and that's about it. At first, everyone didn't want me to do it. Most of their opinions were that making figures doesn't generate enough money and how am I going to live my life as a figure artist? Now I feel very happy because of the fact that my family and my friends know who I am when I hear things like "Rainman is my older brother who I ride motorcycles with!" or "Rainman is my daddy!" I think they feel good that they know me and because of that I feel much happier. Those people are the ones that truly know who Rainman is.
Rainman
Question #16
You recently made a third version of Bill the Butcher, are you considering revisiting any of your other older headsculpts?
I really wanted to make an angry version of Bill and that's why I made it. I would like to make different versions of pre-existing heads but my personal drive is satiated by Bill the Butcher and I believe my customers and fans will understand. Even though I don't make a perfect headsculpt, there are many things that I wish to redo when I look at my old headsculpts. If I remake them now then of course I can make them better than before. But I don't want to destroy the good old memory of an old headsculpt by remaking it. It's beautiful when the memory remains the same.
Rainman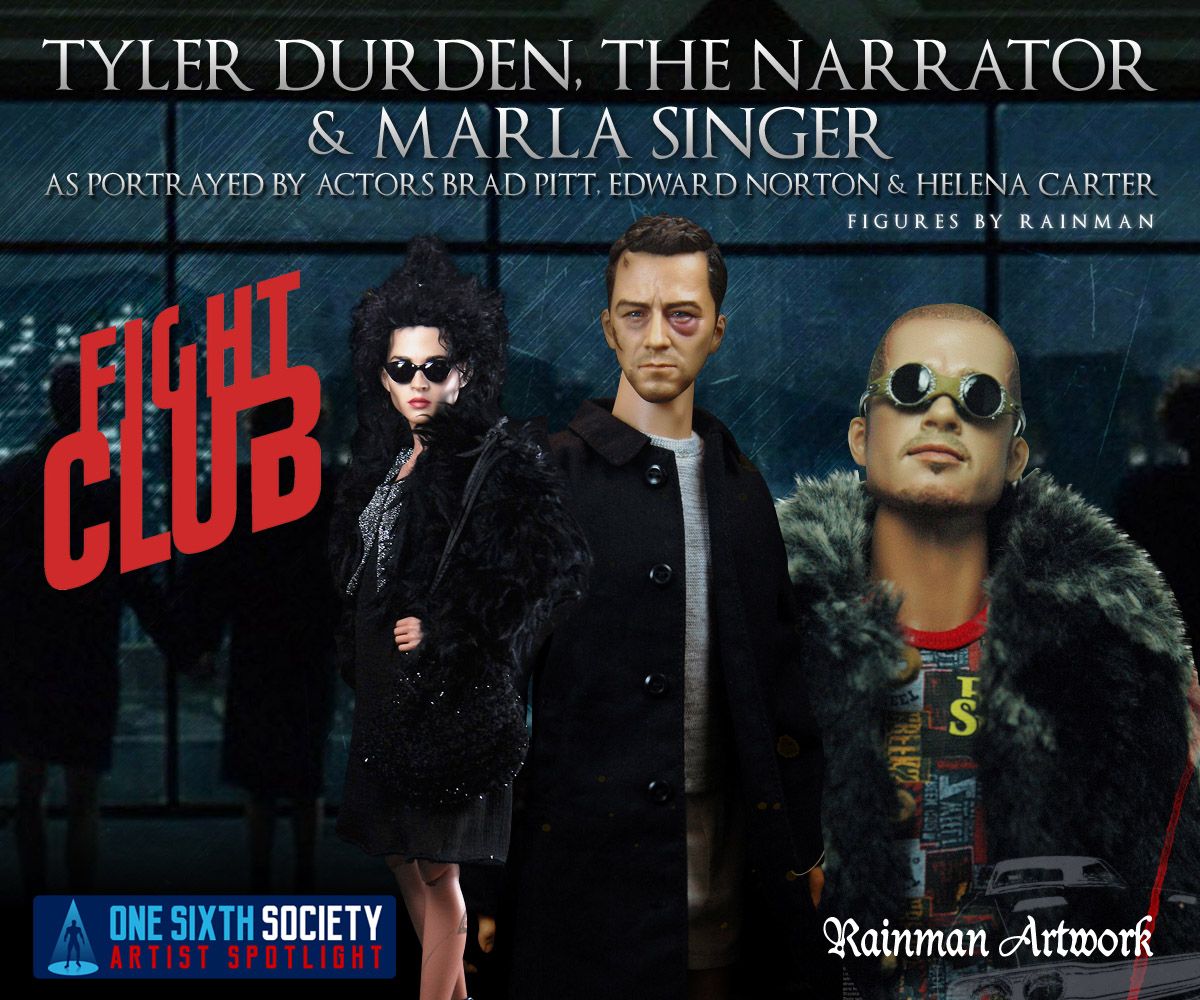 Question #17
Have there been any figures you have tried to make but you found were too difficult?
It may sound a little too cocky but as long as I have time, there isn't a thing that I can't make. When "Alien 2" came out, I just wanted to make it even though I didn't have any skills at that time. I spent about 2-3 hours for almost a month just making it. Then I learned one thing, "if you don't give up, then you can do everything". When you make a figure, you learn at least 2-5 new techniques and methods. If you don't do it yourself then you can never cross the river. When you make 10 figures then you learn 30 skills and if you make 100 then you have 300 skills. And from that moment, there will be days when you don't have to use any new techniques and you can make everything. How will you know if something is too hard without trying?
Rainman
Question #18
Do you have a favorite accessory that you have made? If so, why this choice?
I think it might be the bust of the Cyborg that I made. At first I was worried if it wouldn't come out right with all the mechanical complex lines, as well as the microphone between the lines and chips. Since I was so used to making people, I was worried that I had to make these mechanical parts. But when those complicated overlapping parts were fitting correctly, that joy was amazing.
Rainman
Question #19
A lot of your figures lately have been based around horror films. What attracted you to this genre?
I'm originally a horror movie maniac! I read many books on psychopaths and I'm also interested in crime psychology. Perhaps I have the most fun when I paint the blood. I can paint a brutal wound on the figure or even give it a bloodbath! I'm also very happy when I turn off all the lights while watching a horror movie. I don't know how many horror movies are out there but I watch most of the well-made horror films.
Do you want to hear something very eerie (I hope I don't end up in the mental hospital)? For a while, I was very into James Wan's movies such as "The Conjuring" and "Insidious". It was the only movies that I got really surprised by. But on the other hand, while I'm getting surprised, I felt myself smiling like "Yes!! I'm loving this type of unexpected horror from this movie!" But there were movies that just didn't live up to its expectations that were easy to predict. I like to rewatch classic horror movies like "The Ring" "Ju-On", "The Shutter", "The Eye" and etc. In fact, I was inspired by Japanese horror movies and I made Sadako.
Rainman
Question #20
Many of your fans around the world will read this interview, what would you like to say to them?
I wrote down my personal thoughts without any hesitation and I know some of the readers may feel uncomfortable. I hope you guys can read this with an open heart because I didn't want to sugarcoat things that I've said with lies. This job requires me to work with my hands day in and day out, Even though I was poor, I knew that i was a figure artist and this was what I needed to do with my life. I recently welcomed a new baby and I've officially become the head of my family. Previously when I worked for a company it was in order to protect my families well being. I followed the company's policy and I became a member of their society. The things I could freely do gradually started to diminish. I thought to myself that as an Artist I can do whatever I want with my figures. Many people started to ask about my figures. Moving forward everyone thinks they are right when they talk to me. Some tell me I've changed, but I don't listen to them. I can't make decisions based on one or two people's opinions.
With the current 1/6 market, the only things that gets treated well are only good likeness and quality. If the likeness is slightly off, is that a failed work? Are rooted hair and skin pores only considered the best? "Art" is rooted in personality with a free thought and not an objective field recognized by technology.
After I write this, someone will raise an objection and create an issue and there will be people who want to be at the center of it. I'm telling you; do not waste any energy on such things. Just do what you need to do for your work and for your family.
This interview asks me questions about my thoughts. This isn't a debate. Some of my answers may seem aggressive or it may seem like an attack or defense. But in an official interview like this, I wanted to tell you these stories. I have learned English by myself but I didn't have a chance to share these kind of deep stories. I don't want to sugarcoat my occupation with this interview. What you guys want from me is my honest thoughts.
Over the past few years, I have received unconditional love. I don't know how much longer I will receive this kind of love but I'm always thankful and I deeply love you back. Thank you for reading this long interview.
Rainman
And there you have it, straight from the artists mouth. We wanted to extend our deepest thanks to Rainman for allowing us to ask him some questions, and for taking the time to answer them for us! Special thank you to Jae C. for his many months of help on this project. We hope you enjoyed our interview with Rainman Artwork and if you have some spare time be sure to check out more of his work!