The hype for Guardians of the Galaxy Vol. 2 has reached a fever pitch. It should come as no surprise to anyone that Hot Toys is producing new collectibles based off of the film. This announcement today really came out of left-field! Especially since the Sixth Scale figures of Star-Lord and Rocket Raccoon both come with a Baby Groot! Most of us definitely did not expect Baby Groot to get his own release. The Hot Toys Guardians of the Galaxy Vol 2 Baby Groot figure sure proved us wrong!
Hot Toys has done life sized collectibles before. For example their Ben Affleck Batman figures that tower at over seven feet. That being said, Baby Groot is still life sized. Since he is a baby he clocks in at right around 10 inches. This is smaller than most of Hot Toys one sixth scale offerings, but it does not appear that the smaller size is a hindrance to detail.
The Cutest Figure Ever
When you think of Baby Groot most would realize that there is not a huge amount of accessories that could come with him. Hot Toys again threw us for a curve and included a decent amount of accessories. This will allow for some awesome variations when displaying him. First and foremost Baby Groot comes with three interchangeable faces. The faces include a neutral expression, a small grin, and a gleeful smile. All faces are intricately sculpted and painted as is the body. The wood texture and detail looks spot on! So does the greenery growing on him. Baby Groot also includes two pairs of hands! There is a small pair of neural palms, as well as a set of attack hands. The attack hands have branches that are growing out of his arms. These branches also have wires embedded in them for posability.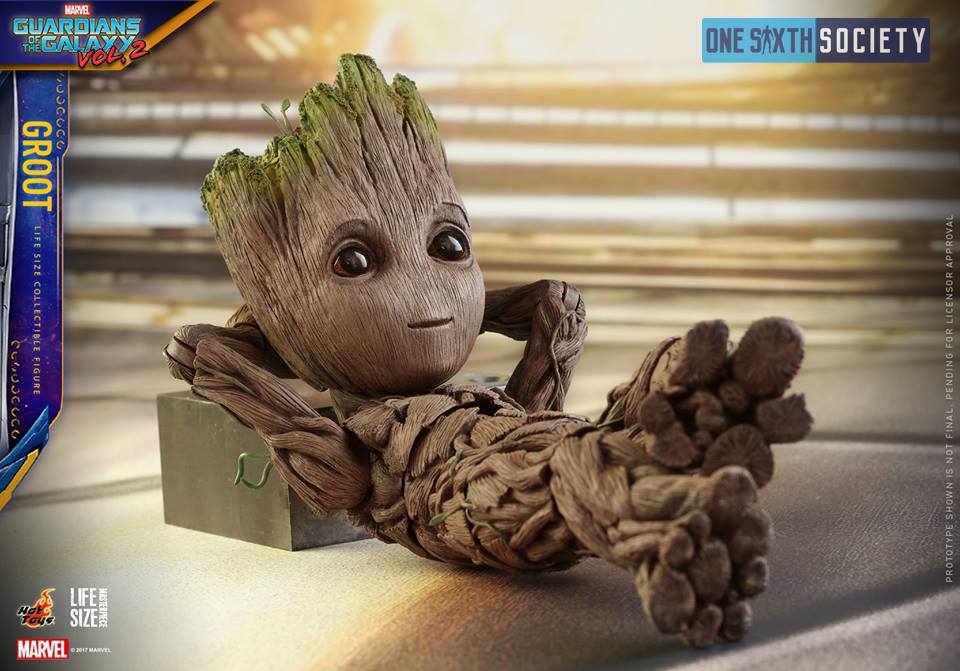 The most interesting accessory that Baby Groot includes is his red Ravager jacket. It is intricately tailored, and while it is not clear how it goes onto Groot, hopefully it will not be too difficult. Finally, Baby Groot is rounded out by a figure stand with the movie logo on the top. Overall, Baby Groot does not come with as many accessories as some other releases. What he does include allows for a variety of posing options!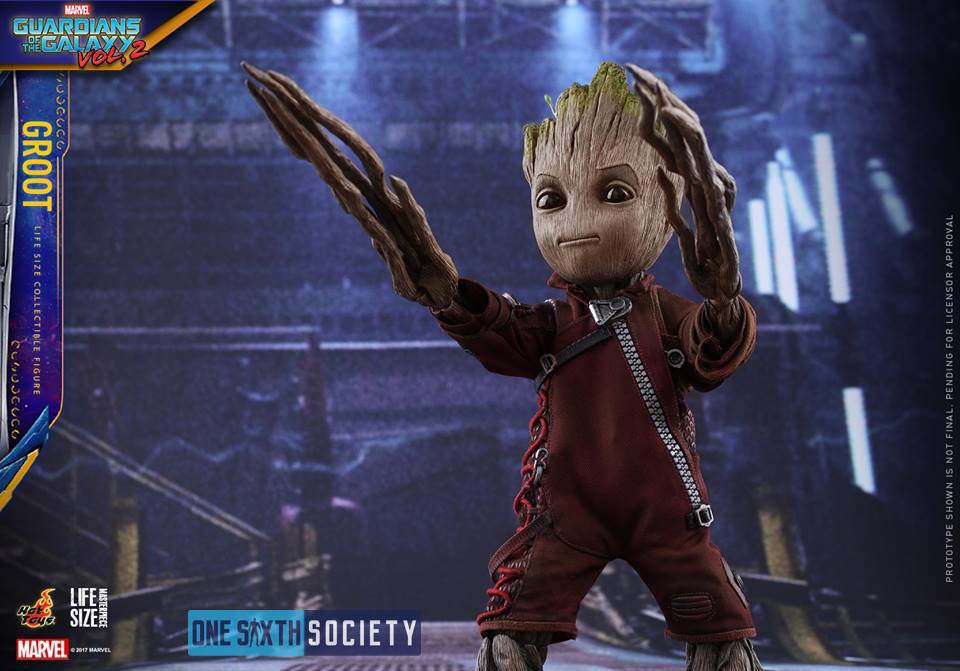 Baby Groot Pricing
Coming in a bit smaller than the average one sixth scale figure. The new Hot Toys Guardians of the Galaxy Vol 2 Baby Groot price reflects his size. Wherein the release of Star-Lord is in the $250 range, Baby Groot has an MSRP of $189.99. Not the cheapest release by any means, but it is not a totally unreasonable price. Guardians of the Galaxy Vol. 2 will likely be a huge smash hit so I would not be surprised to see more collectibles from the film, especially of the core team members. I think it is safe to say however that any more releases from the film will not be nearly as cute as this Hot Toys Guardians of the Galaxy Vol. 2 Baby Groot is.