By now, many of us are aware of the Blitzway vs Soldier Story Toys Ghostbusters figures situation. In the sixth scale hobby, it's a rarity when you see two different brands/manufacturers procuring the same license around the same time, but with different circumstances.
When Blitzway announced their Ghostbusters license to produce sixth scale figures, many within the hobby exclaimed excitement and joy. Finally, a beloved and cult classic film license is receiving the proper attention and treatment. The announcement and unveiling were cemented during the 2016 San Diego Comic-Con. Blitzway displayed their initial prototypes of all four characters from the original 1984 film. At the same time Soldier Story Toys too announced and unveiled their prototypes of a couple of Ghostbuster figures from the original 1984 film along with characters from this summer's film reboot.
Of course, confusion, debates, and questions ensued online within the sixth scale hobby community across various sixth scale discussion groups. There was much conjecture and speculation attempting to determine how two different sixth scale brands managed to obtain the same license. Moreover, there were doubts and questions about how Soldier Story Toys managed to obtain the license. Was this possibly a blatant attempt to produce unofficial licensed products in a brazen and open manner? After all, virtually all sixth scale brands/manufacturers are based in China. In China intellectual and licensed properties laws more or less are skirted with a few exceptions.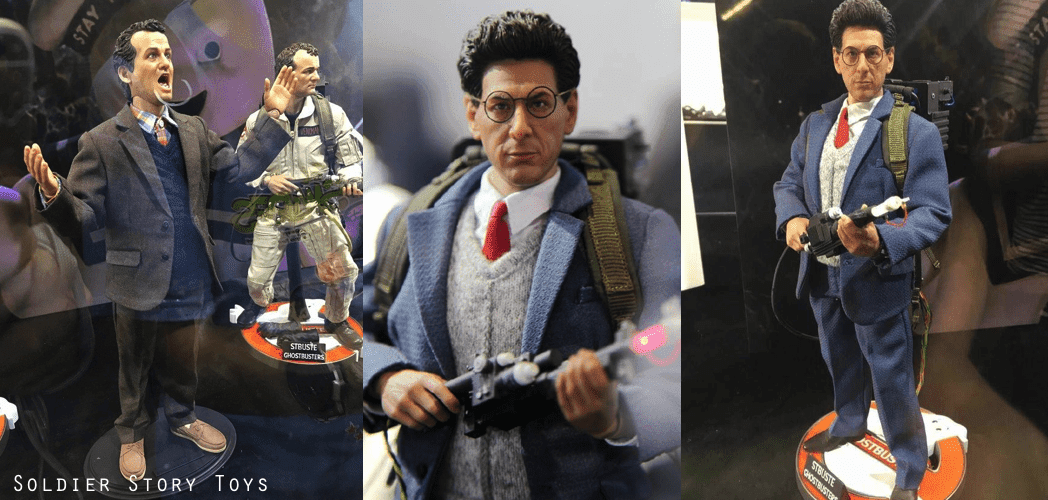 Upon some online research, Blitzway does indeed have the bonafide license to produce sixth scale figures of the characters from the 1984 film. Blitzway can sell Ghostbusters figures within North America and worldwide. In addition, the license to Soldier Story Toys appears to be a bonafide license as well. So considering there are two licensed viable options for sixth scale Ghostbusters figures, which one should sixth scale collectors choose?
Blitzway Ghostbuster Figures Pricing and Details
The approximate MSRP (manufacturer's suggested retail price ) from Blitzway for each character is $250.00 USD. All four primary characters from the 1984 film are represented in sixth scale. That includes Peter Venkman, Egon Spengler, Raymond "Ray" Stantz, and Winston Zeddemore. All ghostbusters figures are depicted in their trademark Ghostbusters outfit with proton pack and Ghostbusters accessories such as the PKE meter, etc. The detailing and likeness to the actors/characters are very good based on the prototypes on display from Blitzway from the 2016 San Diego Comic-Con. We also had a glimpse with marketing/sales photos to distributors and retailers from Blitzway.
The cost of all four characters easily hit the $1,000.00 usd price point. Blitzway is offering each figure individually, but also as a special three figure set (Peter, Egon, & Ray) with bonus gift/incentive of "Slimer" the ghost. You can also get a four Ghostbusters figures set (Peter, Egon, Ray, & Winston) with bonus gifts/incentives consisting of "Slimer" the ghost with a stand, police barricade, and a "no ghost" sign light. The preceding special set options do provide an option for those who truly want all the primary characters from the original film.
Soldier Story Ghostbusters Figures Cost
Soldier Story Toys thus far announced and unveiled two characters from the film, Peter Venkman and Egon Spengler. Their detail and likeness to the actors/characters are fantastic. The Soldier Story Ghostbusters figures are more nuanced when compared with their counterparts from Blitzway. Soldier Story Toys is offering two versions of Peter and Egon, a regular version with an approximate MSRP of $230.00 USD. There is also a deluxe version (includes a business suit) for $270.00 USD. No announcement or indication as of yet if Ray and Winston are planned. Though the version by Soldier Story Toys differs in terms of detailing and likeness of the head sculpts of the actors/characters, the proton packs will have lighted features and be comprised of metal instead of plastic.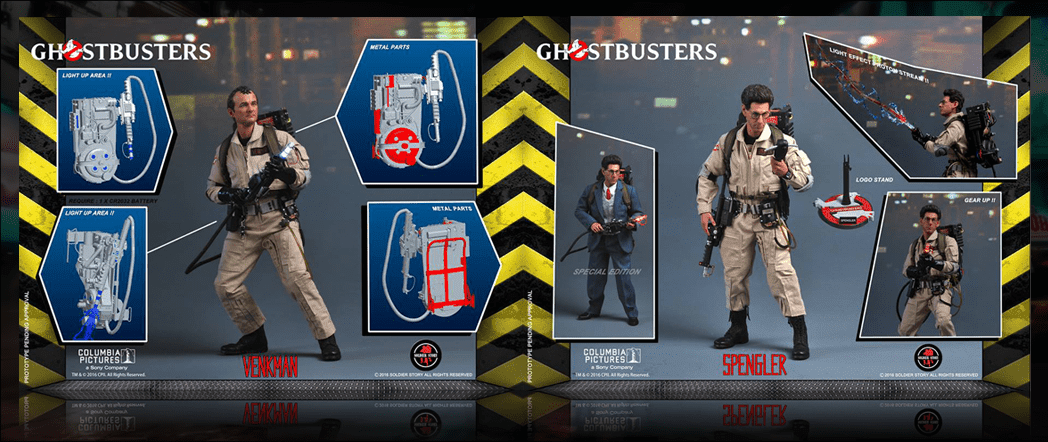 What is presented by Blitzway and Soldier Story Toys is a long desired license realization in sixth scale figure community. Ghostbusters figures have been sought after by many collectors over the years. There are nuances and subtleties in the offerings from both companies. My preference thus far is Blitzway because I can purchase all the characters and bonus items.
I'm sure some may prefer Soldier Story due to a more nuanced approach with two of most memorable characters from the film, Peter and Egon. The figures from both companies are definitely pricey and in the realm of what hot toys pricing. For sixth collectors like us, I'm excited. We're slowly seeing many iconic pop culture characters from films and other mediums slowly seeing realization in sixth scale as high quality collectible figures.