Storm Collectibles is no stranger to one sixth scale sports icons, as they did their Mike Tyson Figure in recent times. That being said, many have been excited for their release of Professional Wrestling Icon Hulk Hogan in One Sixth Scale. After being so hyped it, it is nice to see that once again Storm Collectibles delivered with their Hulk Hogan Figure. Our Storm Collectibles Hulk Hogan Figure Review pretty much covers everything so please enjoy!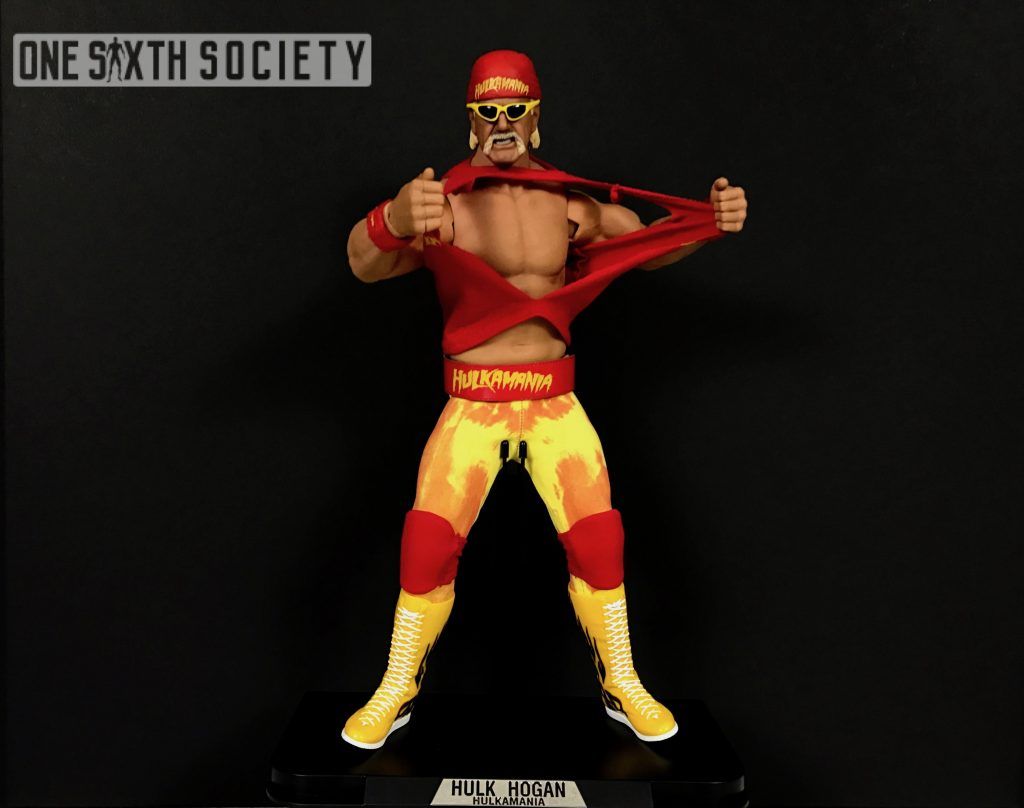 I was eagerly anticipating receiving my package as I embarked on the Storm Collectibles Hulk Hogan figure review. On the exterior, the box is packaged in a fairly generic shipper. The nondescript packaging was intriguing and heightened my curiosity. The package gave no clues other than featuring the name of the figure and Storm Collectibles.
That being said, as soon as the shipper comes off, it is clear that what is inside is something special. The art box is pretty brilliant, displaying bright reds and yellows. It also includes raised imagery, and house the figure in a removable flap as is typical with window boxes. Behind that window of course, is the figure and accessories.
You Get Two Head Sculpts
The figure itself is a beast, coming with two head-sculpts (neutral and angry) and a specially made muscle body. The heads are painted wonderfully with a really great depiction of classic Hulk Hogan. The body is not the most articulation friendly but the arms and chest are seamless save at the shoulder. Achieving iconic wrestling poses is pretty simple and you shouldn't have any problems achieving the look you want. It must be noted that some people did have issues with their Storm Collectibles Mike Tyson body. But they were made aware of that issue and it will hopefully not be the case here. A bit of extra care and caution should be taken with the figure, as a collector typically does.
Storm Collectibles Loaded this Figure Accessories
While the figure's body and sculpt are fantastic, what is really amazing about this figure is the abundance of accessories. The Hulkster comes with 4 bandanas total, 2 sculpted, and two fabric in red and yellow. He also comes with two pairs of sunglasses, in red and yellow. Two scarves and belts are included, in, you guessed it, red and yellow. Finally, he comes with four tank tops, two unripped in red and yellow, and two ripped. Basically you have all of the accessories to have two different outfits for the Hulkster. The hands are where it really shines, boasting seven pairs of hands for a ton of different poses, as well as achieving the look of tearing his shirt off via magnets.
A few notes to wrap up our Storm Collectibles Hulk Hogan figure review. First his boots simply slide on and off the leg. Extra care should be taken to not break those when swapping for the exclusive red boots. Additionally, a stand is included but it is slightly different than the typical Hot Toys stands. If those could even be called negatives, those are the only downsides to the figure. That being said, Hulk Hogan by Storm Collectibles is a fantastic piece. It should appeal to a wide variety of collectors, and we cannot recommend this one enough. A great piece that is extremely well made by a passionate company.