A hotspot for the entertainment industry as well as a tourist haven, Los Angeles is a city that millions visit each year. That being said, One Sixth Society was founded in Los Angeles and we consider it our home-base. In an increasingly digital world, many (including OSS) still enjoy a good old fashioned walk through the toy store to see the newest collectibles in person before we spend our hard earned money. Considering how many people visit Los Angeles and that it is our home, we wanted to take you on a journey to show you all the Sixth Scale Figure Stores in Los Angeles.
The Shops
If you're coming to Los Angeles as a tourist, you should check out these stores as they are all close to hot spots that you will likely be visiting!
Frank & Son Collectible Show
If you are in the Los Angeles / West Hollywood area and you want to get away from the more tourist oriented areas then head to Frank and Son Collectible Show. Only 45 mins south of Los Angeles in City of Industry you will find a warehouse packed with sixth scale figure vendors. Frank & Son is a bi-weekly show where all sorts of collectors can meet and visit with a wide variety of vendors. With several vendors dealing with Hot Toys and other one sixth scale figures every week you will be hard pressed to find a location in America with as much variety. Not only that, but with the sheer amount of vendors, you are also likely to find other non-one sixth scale related treasures to buy.
Custom artists also are known to make appearances, like Tony Mei who shows off his custom tailor work. While these custom artists may not be offering their pieces for sale at the show, it is a good way to meet the people behind the art and make connections. Whether you are looking for the newest figure by Asmus Toys or a classic Hot Wheels car, Frank & Son is a must-stop if you are in the area.
19649 San Jose Ave
City of Industry, CA 91748
Phone: (909) 444-7955
Open two days a week:
Wednesdays 3:00PM – 9:00PM
Saturdays 9:00AM – 5:00PM
Things From Another World
Located right in the heart of Universal City Walk, Things From Another World is a quick and easy stop if you're already planning to visit Universal Studios Hollywood! Part comic shop, part collectible store it is a store with a personable staff and a fantastic location. Of course, you may want to budget some money aside if you will be visiting before you enter the theme park.
1000 Universal Studios Blvd
Universal City, CA 91608
Phone: (818) 622-8464
DJ's Universal Comics
DJ's Universal Comics is a shop just outside of West Hollywood. It's actually just a hop, skip and jump away from the Universal Studios theme park. If you would like to shop for your collectibles outside of the hustle and bustle of City Walk, DJ's may be the place for you. Primarily a comic book store, DJ's still stocks old / new figures and collectible toys alongside the newest books.
11390 Ventura Blvd Ste 9
Studio City, CA 91604
Phone: (818) 761-3465
Blast from the Past
Another Burbank shop that is based around film and pop culture of yester-year, Blast from the Past is a classic mom and pop shop. Family owned and operated, making their customers feel right at home is of utmost importance. They love talking about movies, shows, comics and invite discussion. They also carry a wide range of Hot Toys and 1/6 scale figures!
3117 W. Magnolia Blvd.
Burbank, CA 91505
Phone: (818) 557-7724
Halo 13
Located in the Burbank Mall, Halo 13 is a collectible shop that caters to all different kinds of collectors. Stocking Hot Toys and other various 1/6 scale items, stopping here is a must. Located close enough to Universal Studios that it is not an issue to get to the store is another big plus!
201 E Magnolia Blvd
Burbank, CA 91502
Phone: (818) 847-7548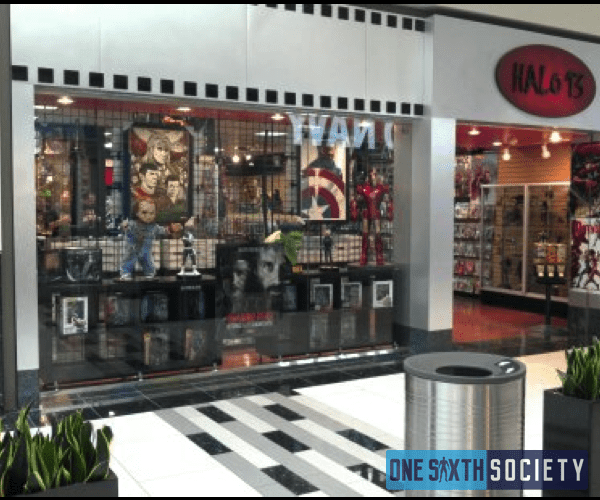 Toy Mandala
Located on the very famous Ventura Boulevard that you might have heard Tom Petty sing about. Toy Mandala is certainly not a quaint out-of-the-way store. They are however a store with a large variety of collectibles. With items from comics, games, Hot Toys figures, and Japanese merchandise. They certainly have a wide range of things available for all types of collectors! We should also mention that they are only minutes away from Universal Studios!
14555 Ventura Blvd
Sherman Oaks, CA 91403
Phone: (818) 990-3007
Traveling to Los Angeles and Hollywood can be a ton of fun in itself, so we figured that this short guide might help you keep a connection to your favorite hobby while you are enjoying La La Land!