This July, we had the opportunity to sit down with world renowned sculptor Kyung-ah Kim, more commonly known as K.A Kim. You may not know her by name, but if you are interested in scale collectibles you have certainly seen her work. The Korea-based artist's work has appeared in figures by Hot Toys, Blitzway, Prime1, and more. With her professional work beginning in about 2012,
K.A Kim has been responsible for what many consider to be some of the best one sixth scale portraits ever done in mass production. Blitzway's Ghostbusters, Hot Toy's DX13 Terminator 2 T-800, Hot Toys Battle Damaged RoboCop, Star Ace's Hermoine Granger, and countless others can all be accredited to her work.
K.A KIM Greets One Sixth Society!
K.A. Kim grew up surrounded by media, watching Disney cartoons like Beauty and the Beast and the Little Mermaid as a kid. Then, at just 15 years old she set her sights on scale modeling, beginning by honing her skills as a painter before turning her attention towards sculpting at 16 years old. She has gone on to say that it came relatively naturally to her. Painting came first, and sculpting ended up being a natural extension of that. Something that I personally find very inspiring is that she has also said that her family has always been supportive of her talents. Even times when she was struggling with a creative block, her family was there to encourage and support her skills.
Since then, she has gone onto become one of the most sought-after artists for scale projects. Just this past July at San Diego Comic-Con 2019, her Prime-1 Daenerys Targaryen was on display for all attendees to see in person.
It was at San Diego Comic Con that we were able to sit down with K.A Kim and ask her a few questions about herself, which she very graciously answered for us.
K.A Kim Interview
Question #1
What are three of your favorite films?
I'm very partial to La La Land, Titanic, as well as the Terminator. Very classic Hollywood movies to me, and I love them very much.
K.A Kim
Question #2
Speaking of the Terminator, that's one of the finest sculpts that you have done, do you have any of your own that you consider to be your favorite?
My favorite pieces are some of the quarter-scale figures that I have had the pleasure of sculpting, mainly Blitzway's Marilyn Monroe, as well as Hot Toy's Quarter Scale Christian Bale Batman. I'm the proudest of those and how they ended up coming out.
K.A Kim
Question #3
They really did come out fantastic. About how long does it take to create the sculpts?
I would say about a month and a half to two months. The longer I spend on them, the better they come out as with anything else.
K.A Kim
Question #4
Your work has covered quite an array of characters, from Tyler Durden to Robocop, Dragon Queens to Hollywood Starlets, are there any characters that you want to work on but have not had the chance?
I'd love to work on a Terminator again, I think Arnold Schwarzenegger has a very interesting facial structure that lends itself to scale representation. That said, I'd also love to work on a Robert Downey Jr. Iron Man sculpt, as well as a Heath Ledger Joker. Both characters have been covered by other artists many times, but I'd like to give them a shot and see what I come up with.
K.A Kim
Question #5
What are some figures that you were not involved in that you find yourself admiring?
I've always been very partial to Blitzway's Bruce Lee and Godfather quarter scale figures, I think they came out wonderfully.
K.A Kim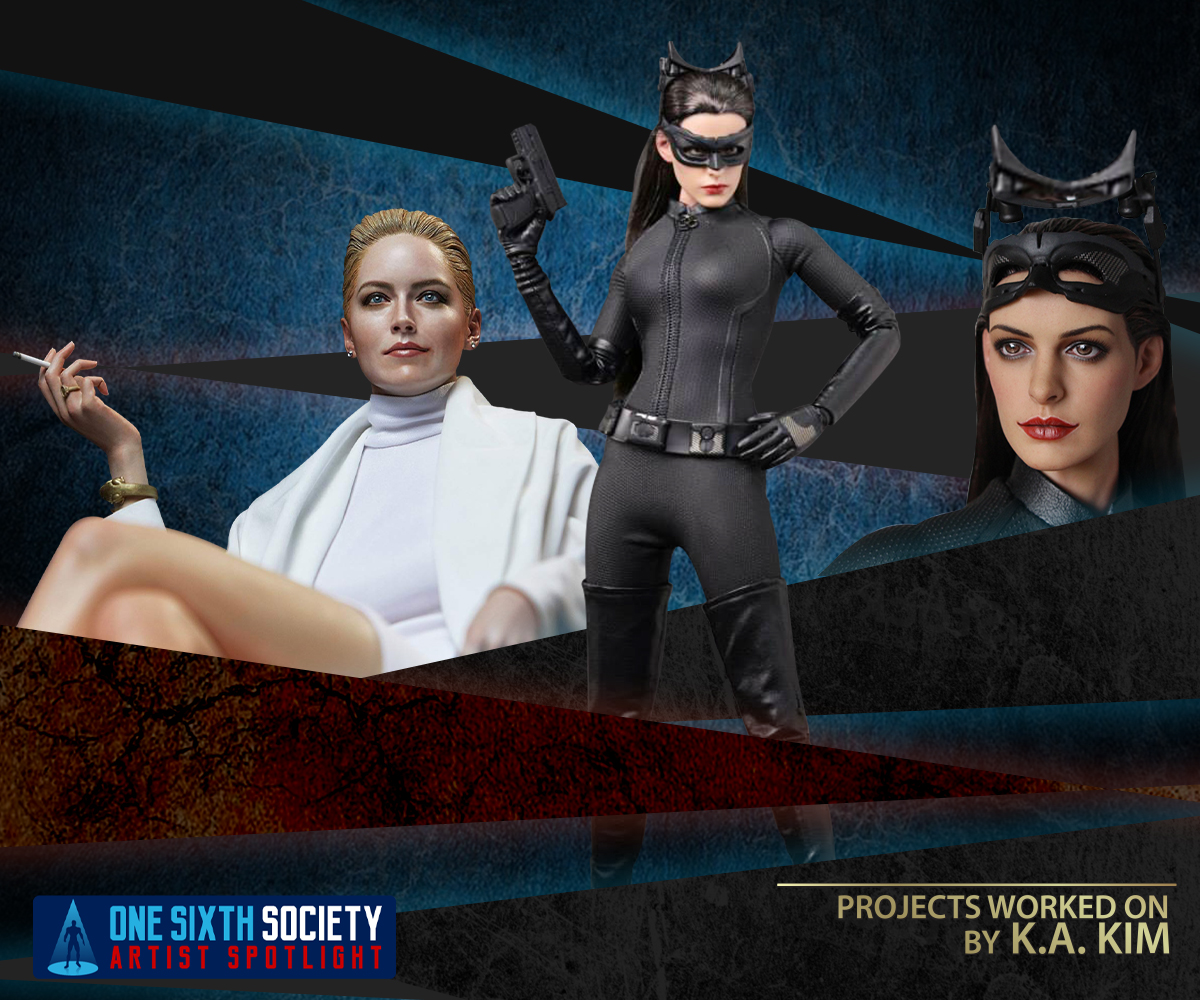 Question #6
If you were not a sculptor, what kind of career path do you think you would have followed?
I really love travel. It's what I enjoy doing anyway when I am not sculpting, so I think it would have been nice to be something like a travel photographer. But that being said, creating something has been so core to me since I was young, it is hard for me to picture myself not sculpting or painting. I'd probably wish I was sculpting while I was doing all of that travel.
K.A Kim
Question #7
Scale collectibles seems to be a mainly male dominated hobby, why do you think that is? Is it something you would like to see changed?
I would love to see more women begin to collect scale collectibles. Same goes for women creating scale collectibles. Regardless of gender everyone who loves this hobby is a collector. Men or Women.
K.A Kim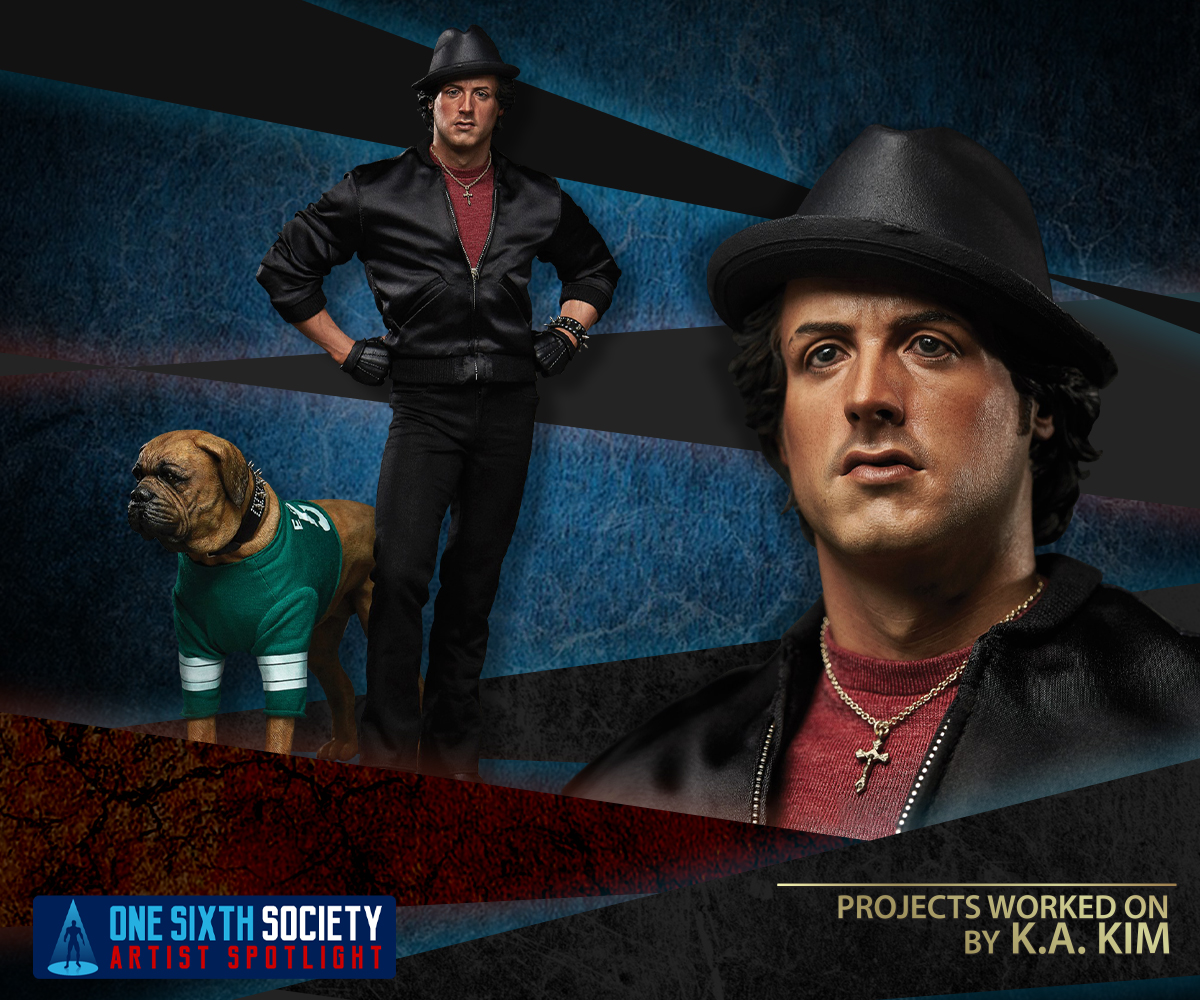 Question #8
Do you have any advice for anyone who does want to get into the art of creating sculptures or painting them?
First and foremost, you have to do something that you love. That has always been the most important thing to me, and I firmly believe that if you love something it is easier to get very good at it. Next, you must not try to impress anyone but yourself. Push yourself, but go at your own pace and style, don't allow others to influence your upbringing with negativity. Of course, while doing this you need to be trying your absolute best – give it 100 percent at all times. At the end of the day when you look at something and can say "that was me, I made that" it allows for a sense of accomplishment unlike any other.
K.A Kim
Question #9
Any final words for the readers at One Sixth Society?
I really just wanted to say how much I appreciate the people who love and support my work, it means so much to me. I will continue to paint and sculpt as long as I possibly can, and I am looking forward to being able to share that with the people who supported me for a very long time.
K.A Kim
Currently K.A Kim is working exclusively with Blitzway and has several new and exciting projects to show the world very soon! Make sure you follow her on social media pages for the latest updates and photos of her work.
Special thank you to Blitzway Founder Won Choi for organizing this wonderful interview With K.A Kim!
Connect With K.A Kim Below:
If you want to check out Blitzways latest Preorders you may do so by clicking here