After an absolutely long wait, the Hot Toys Hulkbuster is finally released in Hong Kong. For all intents and purposes it has lived up to its hype and expectations. As such it is likely that for those who purchase it, it will become an instant centerpiece. However, you have to make sure you're thinking about how you are going to display this beast. Listen to our advice; Don't Display your Hot Toys Hulkbuster in a Detolf!
Hot Toys Hulkbuster Weight
I know what you're thinking; "I've had 5 or 6 figures on a detolf shelf before and nothing has happened, why should I worry?" Well, detolf shelves are made with relatively thin glass, and they do not support a lot of weight for extended periods of time. IKEA has stated that they can safely hold around 13 pounds. Unfortunately, the Hot Toys Hulkbuster weighs in at over 20 pounds.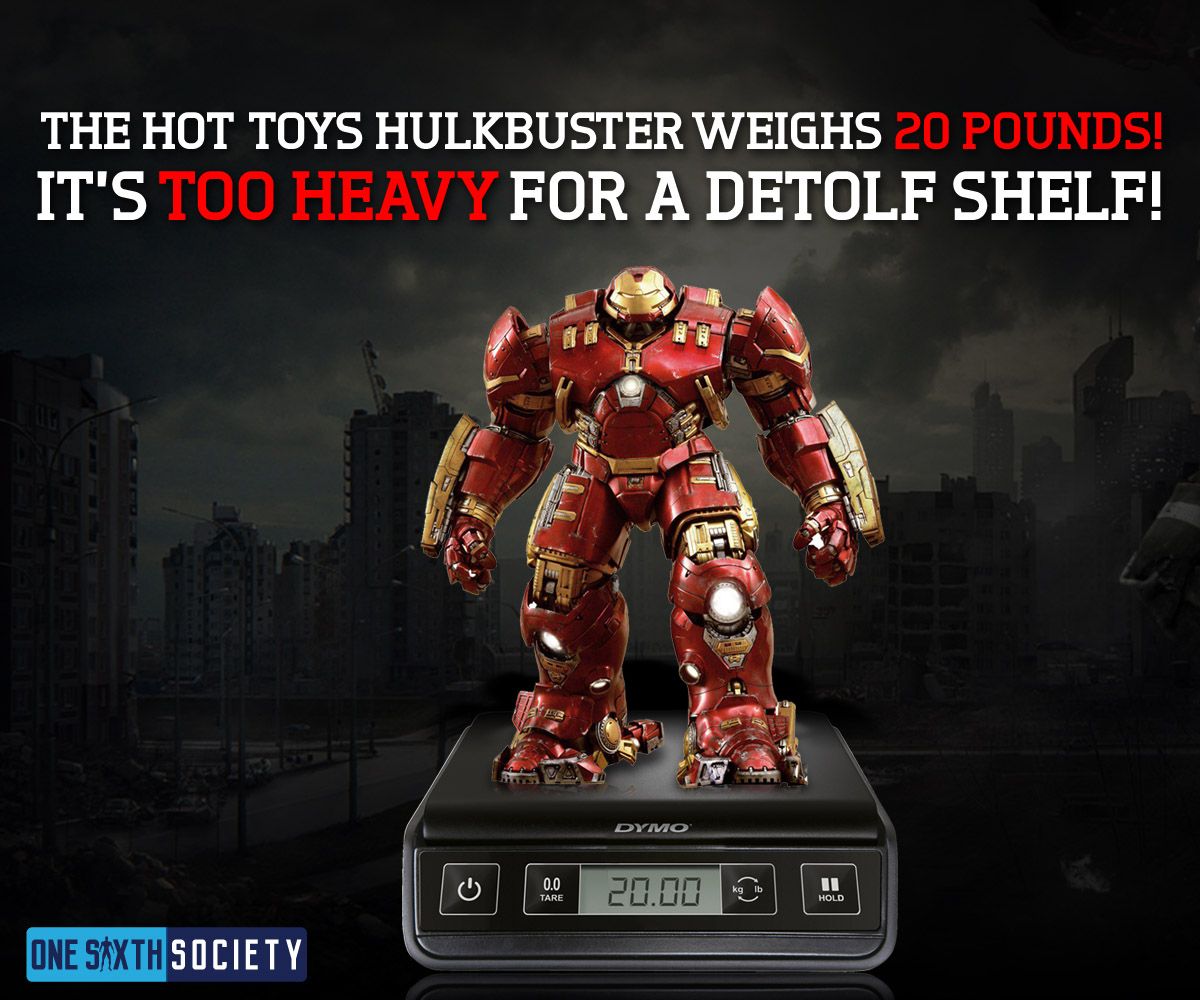 Slapping a Hulkbuster inside of a detolf is a dangerous move. Everyone has seen those photos of the crushed shelves and broken figures, and no one wants to experience that. A shelf dive can be devastating, let alone an entire shelving unit coming down. So what kind of solutions are there?
Cut Stronger Glass For Your Detolf
There are two easy solutions to the shelving dilemma. The first of which is to modify the detolf itself. I have done this on a few of my shelves, I went to a local hardware store and had some safety glass cut out to the same dimensions of the detolf shelves. This is not the cheapest option, but the glass is thick and sturdy, making it able to support much more weight. You could also use other materials to replace the shelves if you wanted, something like 1/4 Inch plywood would make a good substitution for thin tempered glass and would be less expensive.
The other, simpler option is to just build your display cabinets knowing that you'll have heavy items. IKEA has a variety of options, and if you're a statue collector this is invaluable. I would look around various statue collector groups and look at their displays. Premium Formats from Sideshow and other collectible statues are exceedingly heavy, and some statue collectors have multiple on their shelves.
You can also check out other IKEA Displays for some inspiration and ideas. Otherwise, just go walk the aisles of IKEA or other stores that sell shelving. Find out their maximum weight limits. Just know that detolfs are not the most sturdy, so Don't Display your Hot Toys Hulkbuster in a detolf! After years of waiting, the last thing you want is for that beast to crash into the floor.