Netflix's Daredevil showed viewers that even against the vibrancy of the Marvel cinematic universe that a dark and seedy underworld could be achieved effectively. Daredevil is a perfect vehicle for the dark side of this universe. Usually seen as a 'street-level' hero, it makes sense to see Matt Murdoch getting down and dirty. Of course this new style of the MCU brought with it a slew of new fans, with many clamoring for a sixth scale offering. It took some time, but Hot Toys finally pulled through, and we are doing our Hot Toys Daredevil Review.
The Packaging
I am beginning to wonder if Hot Toys saw my comments about not being impressed with their packaging because recently they have really stepped up their game. The Daredevil box might be one of the coolest so far, with extremely nice iconography on the box. The neatest little detail however is the small amount of braille lighting on the front of the box. Nice little character details really elevate the packaging, and utilizing braille was a perfect choice for Daredevil.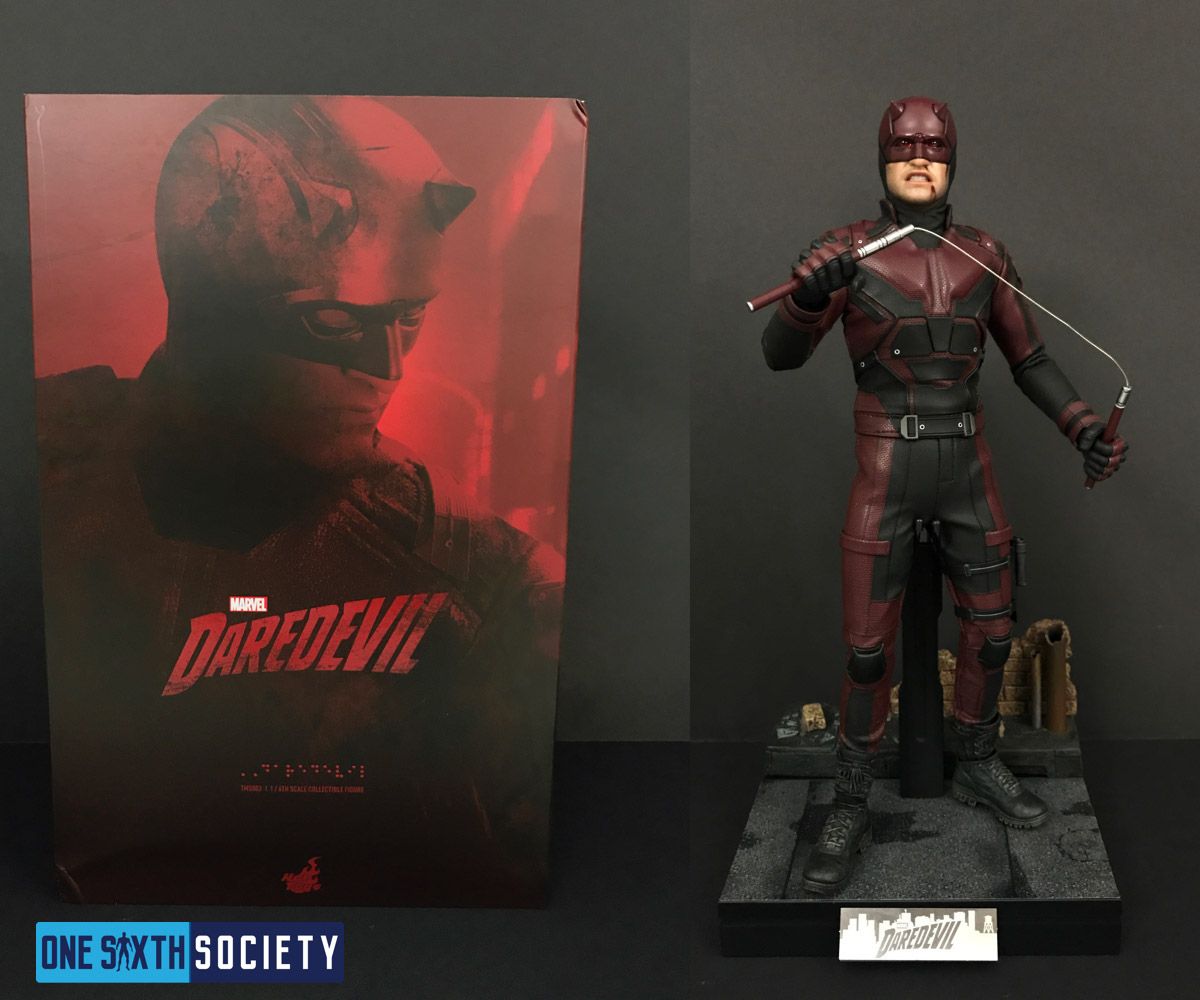 The Costume
The centerpiece of our Hot Toys Daredevil Review is of course his iconic suit. Hot Toys has a very mixed track record with these types of super hero outfits, and I am happy to say that Daredevil is on the positive side of the spectrum. The crimson and black body suit has a nice look to it, and it feels great too. It is certainly not as cheap feeling as some of the other suits that Hot Toys has done. The suit does however, come with a fair share of limitations.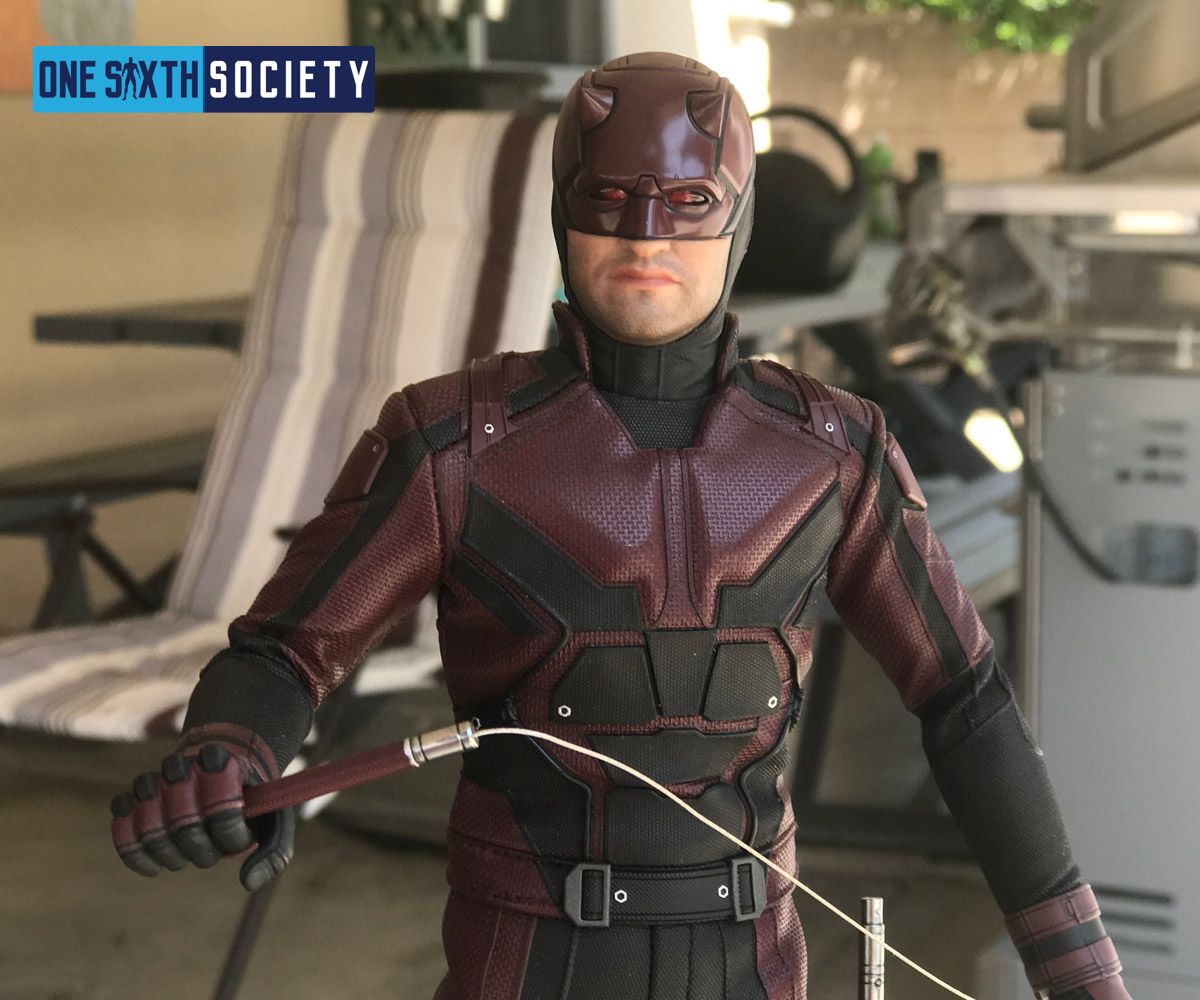 As is typical with a lot of their outfits, you do not want to overextend them. This means do not force any poses, and I try not to leave them in extravagant poses for a long period of time. Hot Toys suits are prone to ripping, and I would imagine this is no exception. However, having him standing stoically is easy to achieve, and looks fantastic. The costume is rounded out by his boots, which are of a new design. The boots are two pieces, which takes some getting used to. I have to say though, I do appreciate a bit of extra articulation which these definitely lend themselves to.
Headsculpt and Accessories
The headsculpt in our Hot Toys Daredevil Review  is where the figure really shines. The head consists of the cowl, and the lower half of the head. The cowl is fantastically painted; with the reflective eyes and helmet shining bright. The mouth pieces are also great! You get a passive face as well as a bloody snarl. The angry face looks more fantastic, and it makes for a very cool display.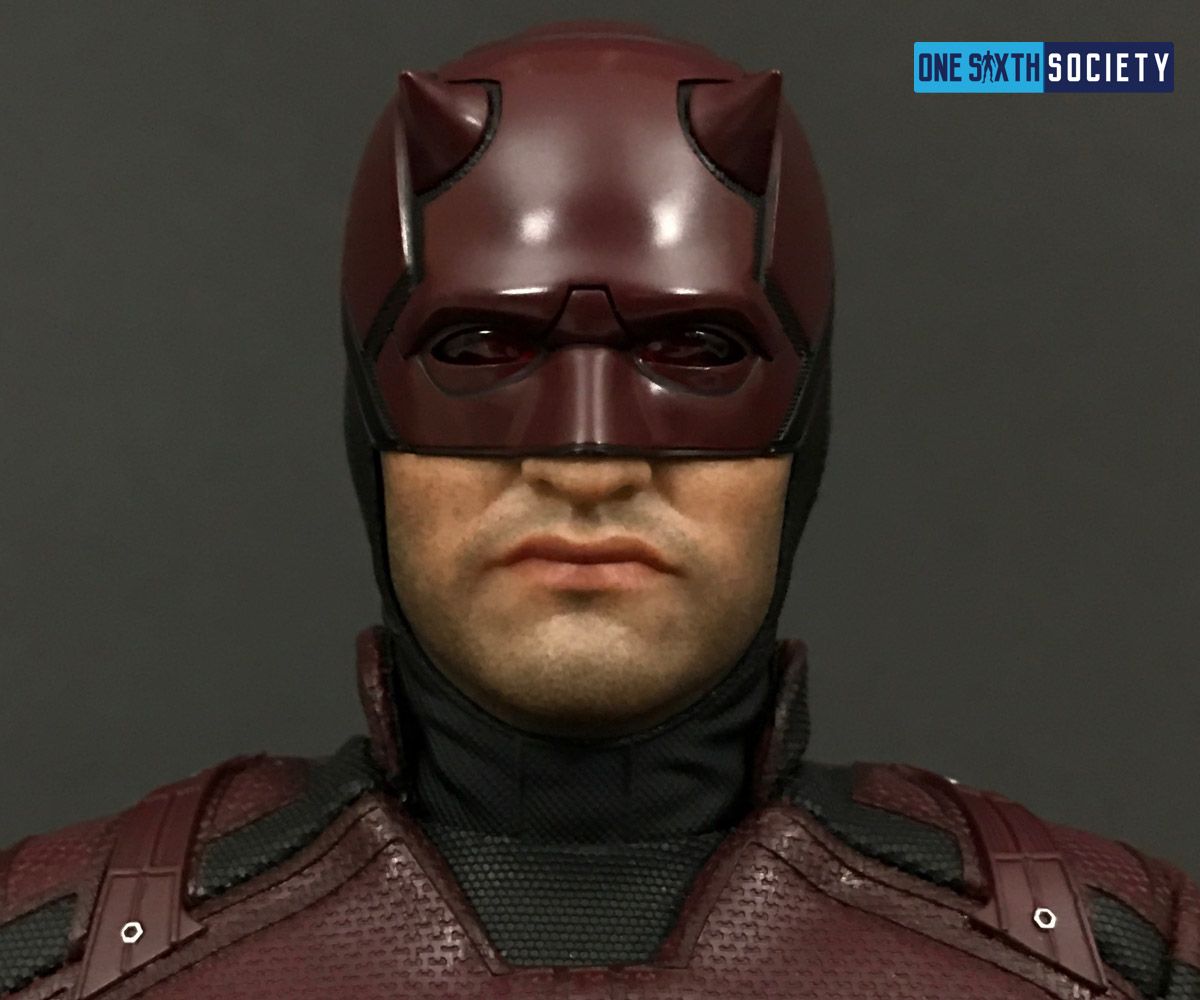 The accessories include the typical assortment of hands, as well as several variations of Daredevil's billy club. It comes as separate pieces, connected baton, and with the two halves connected by cable. Obviously it would have been cooler to have the accessory be able to change, but getting the variations is still nice.
Interestingly, Daredevil comes with a small diorama. He has a square stand, as well as a small rooftop backing to sit next to it. It is rounded out by a backdrop. This is more than was included in the Suicide Squad releases so I am left wondering why. If I had to guess, it is because the figure is missing one key ingredient; an unmasked sculpt. While that would have been nice, I do appreciate a cool diorama being included.
Is Daredevil Worth A Buy?
Usually in these sections this Is where I try to air my grievances, but there really is not a lot to say about this one. The articulation could be better yes, but I would rather have a suit that looks accurate than one that is able to bend further. I have seen some people have complaints about the body, but I think he comes across lean and mean. Let us know what you think, and thanks for checking out our Hot Toys Daredevil Review!