As I discussed in my review of the Hot Toys Deadshot figure, I was not a huge fan of the Suicide Squad film. I am however a huge fan of Harley Quinn as a character, as well as a vehicle for some cool character designs. Suicide Squad is no exception to the rule either, as I was on board with Margot Robbie's portrayal of Harley. As it typically goes, this of course meant that I had to pick up the inevitable Hot Toys figure. Now that we've established that I am a sucker for Harley Quinn merchandise, let's get into our Hot Toys Harley Quinn Review.
The Packaging
I really love when packaging for figures is harmonious, and Harley's packaging maintains the carnival aesthetic of the other figures from the film. Her box is adorned with bright pink and blue. For someone who is conditioned to the rather bland Hot Toys Star Wars packaging, I do appreciate some variety. Art boxes are not my thing, but they certainly aren't slacking here.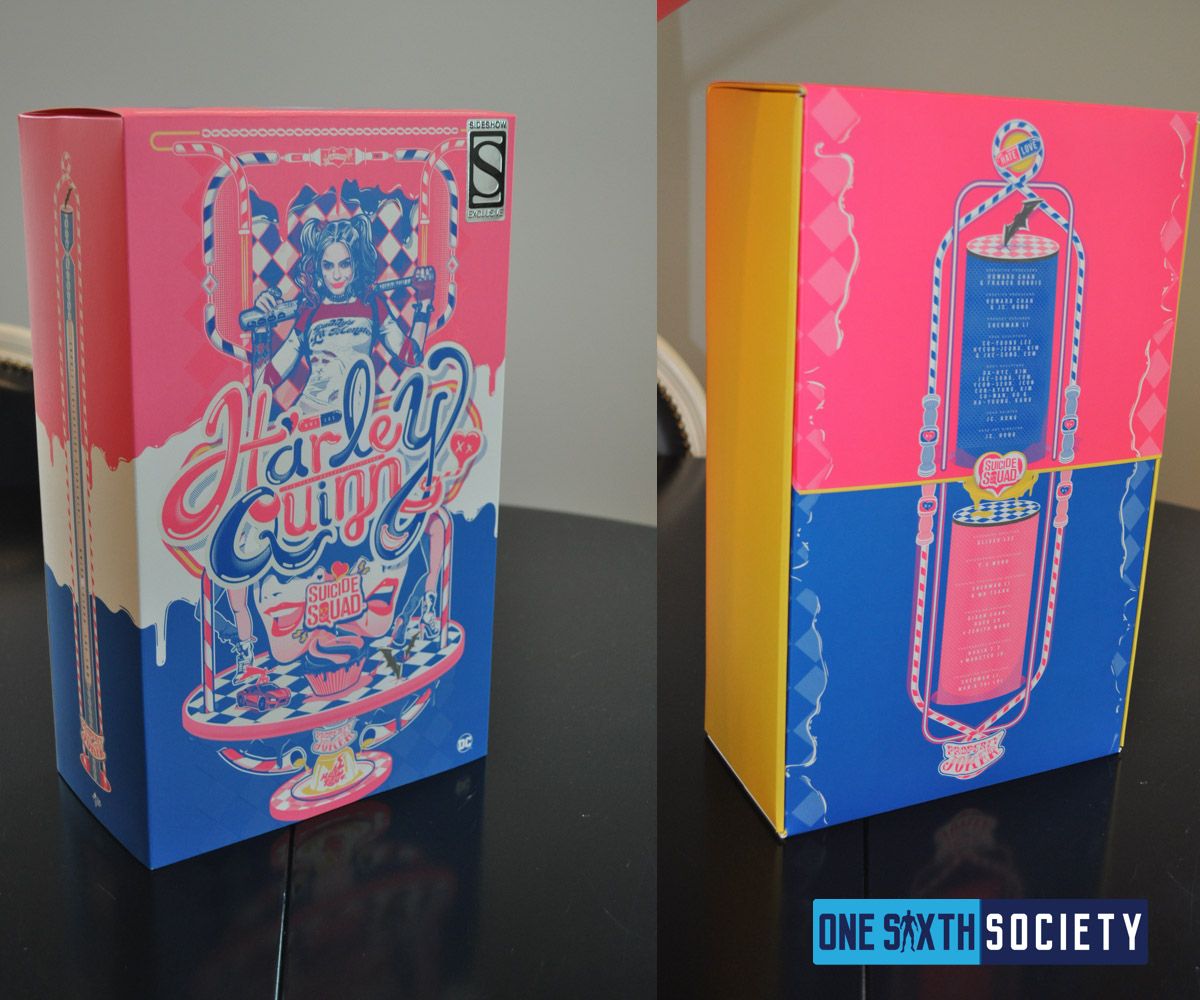 The Body and Sculpt
Considering I have been blown away by both Deadshot and Chirrut's sculpts so far this year, I was afraid that Harley wouldn't stack up. Especially with a more expressive sculpt, I am more partial to neutral expressions. However, I am obviously an idiot because Harley is scarily realistic. I do not know if I have seen a more photogenic sculpt that looks great from just about every angle. Her jewelry is also sculpted on, something that I do not see that often. After reflecting, I would say the expression is necessary to the character. My only fault with the sculpt is I would have preferred rooted hair, but the sculpted hair gets the job done.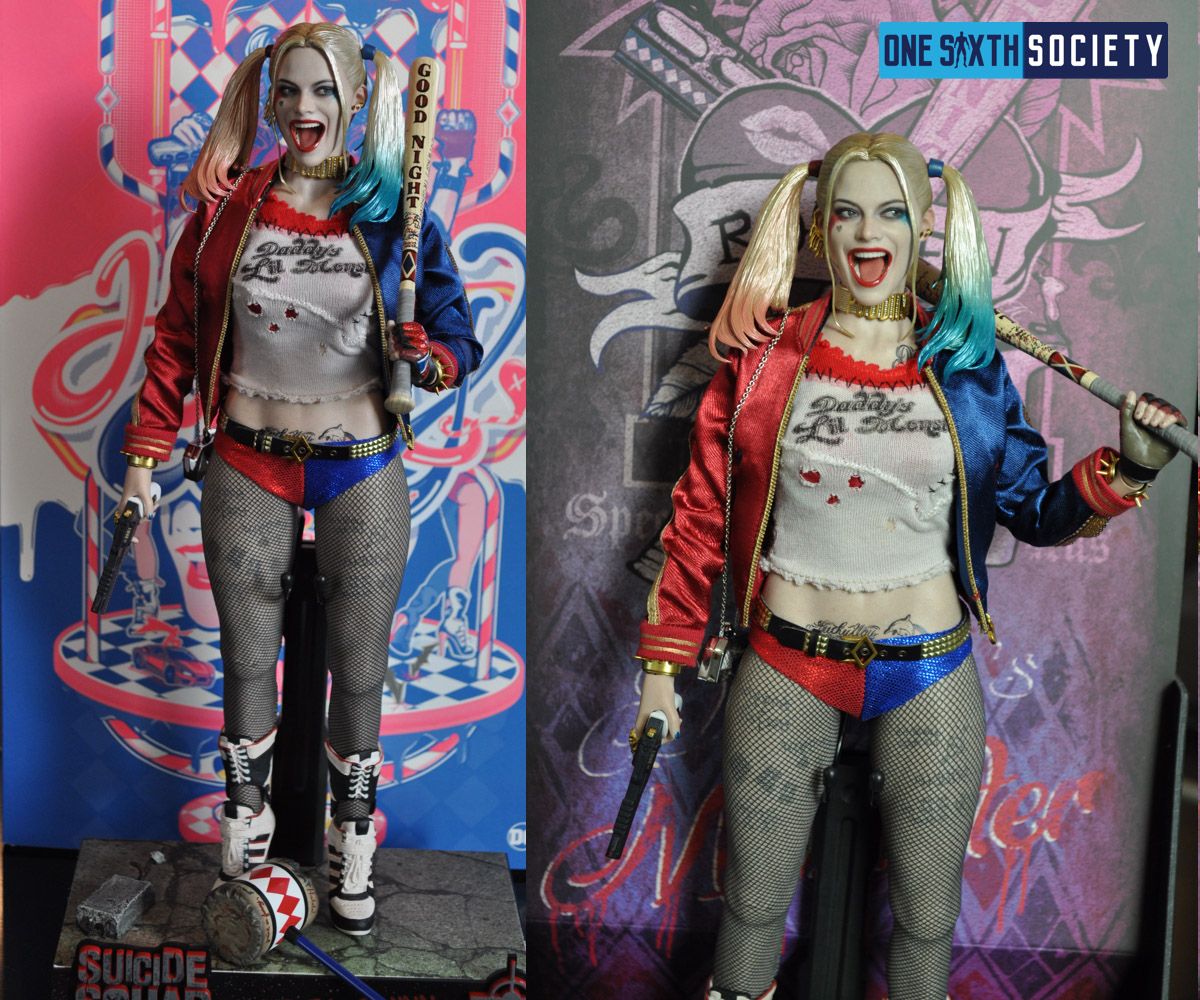 Obviously the sculptural qualities are great, but we cannot ignore the gorgeous paintwork in our Hot Toys Harley Quinn Review. I am most impressed by the skintones, which showcases her pale skin supplemented by makeup. Tattoos also adorn her body and they are done similarly well, exhibiting signs of aging.
I cannot remember off the top of my head if this is the first figure from Hot Toys to have tattoos, but I hope they do more sooner than later. A knock against the body itself is the knees, which are not seamless. The outfit helps a bit, but we will go over that shortly.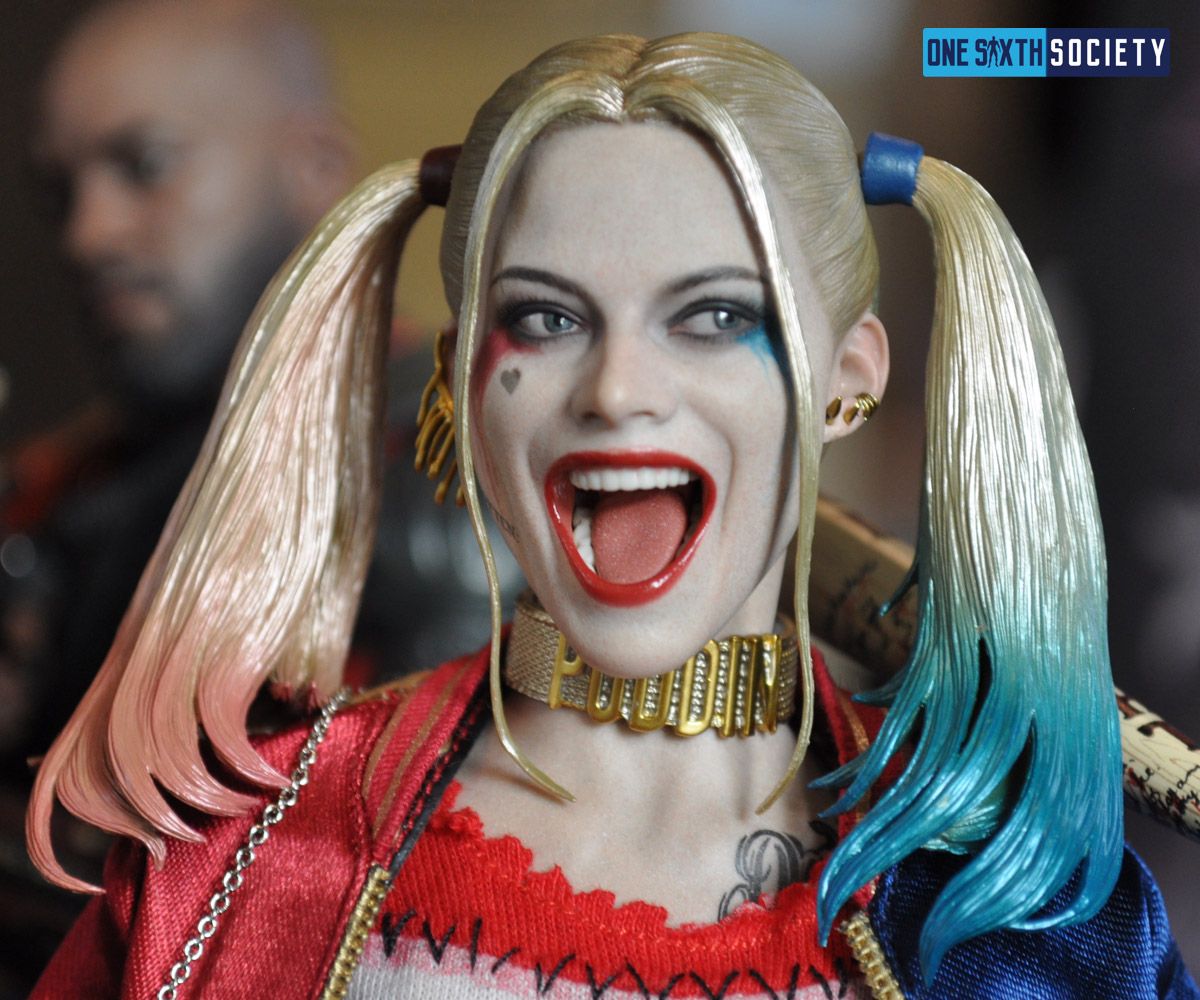 Outfit
Harley's costume from the film is very divisive from fans and critics alike, but it is captured very well here. Her patchworked t-shirt is realistically worn and weathered, and her embroidered letterman jacket is a work of art. However, her outfit has two big issues in my opinion. One of these is the stockings that are attached to her legs. Many people have been having issues with tearing, which is an absolute shame as it is a constant worry when handling the figure. I feel as though Hot Toys could have done something to avoid this, or at least mitigate it. The second is the belt, which is a bit too tight. It is fixable, but again, it is something that should have been handled prior to release.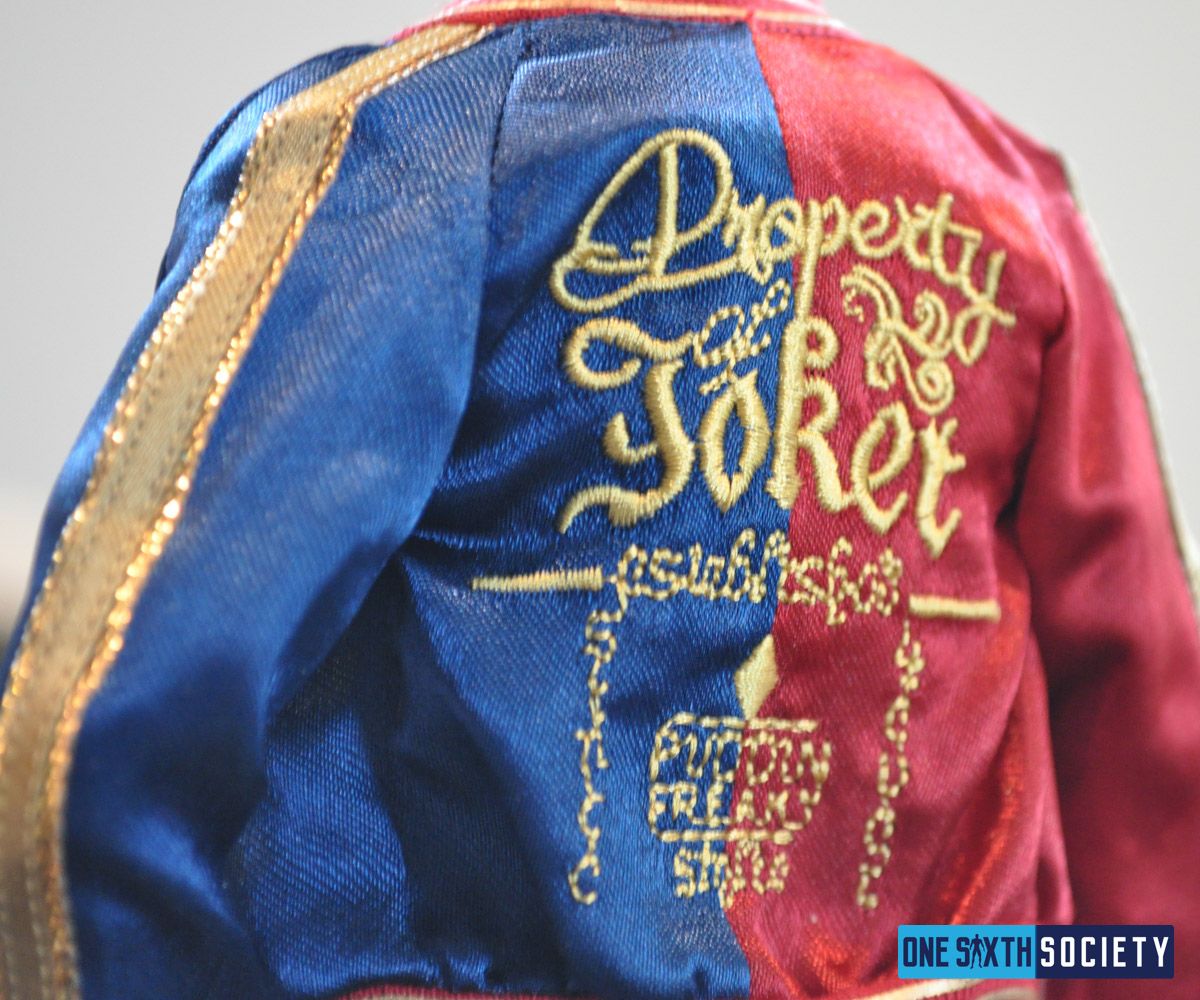 Accessories
Harley is rounded out by some very cool accessories. If you got the exclusive version, you have her decorated hammer in addition to her Bat, Purse, Revolver (with ammo), interchangeable wrist bands, as well as a cement block for some reason. I am assuming that Hot Toys was attempting to give collectors something to create a cohesive display between Suicide Squad figures, but it just comes across weird to have a stop sign and block. Of course, Harley comes with a Suicide Squad stand, as well as a display backdrop. The options here are plentiful, and you'll have a ton of fun changing poses for her.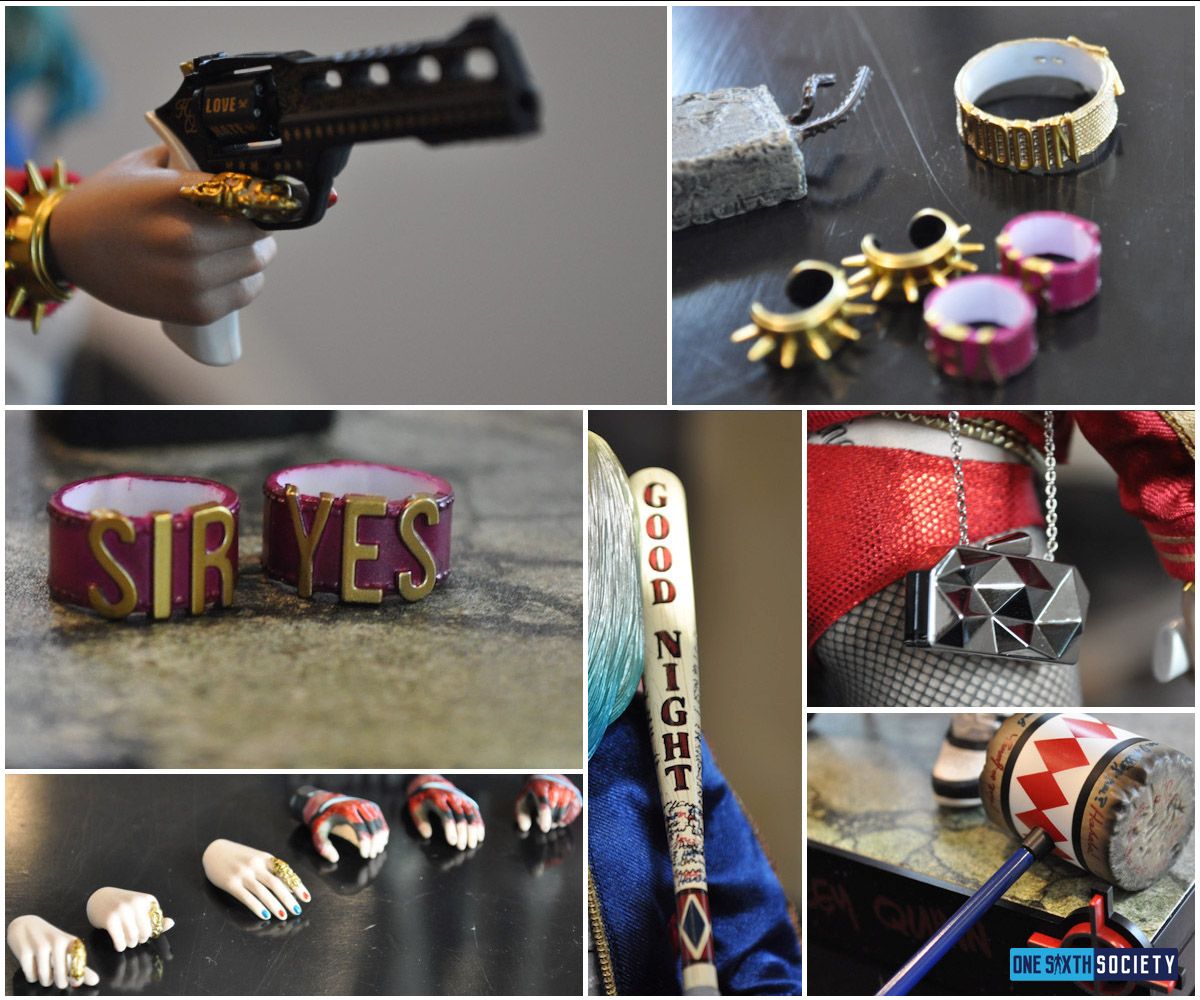 Final Thoughts
Just like Deadshot, I cannot emphasize how impressed I am with Harley. While I was initially very worried, she is a great figure. I do wish a few small things were rectified however. I also wish that we could have had a double pack with the prison version of her, but I digress. We hope you enjoyed our Hot Toys Harley Quinn review, and let us know what you think of her in the comments!