Speaking personally, I was anticipating a Marvel Cinematic Universe Spider-Man figure as soon as I saw the trailer for Captain America: Civil War.  Of course that announcement never came. However, once announcements for Spider-Man: Homecoming came around and we saw the suit was exactly the same, the decision to not release a figure made a bit more sense. Now, we do have the homemade version of his suit up for order already, but not the suit given to Peter Parker from Tony Stark. That time has come, and we have not one, but two editions of our favorite webslinger! Lets take a look at The Hot Toys Spider Man Homecoming Figure!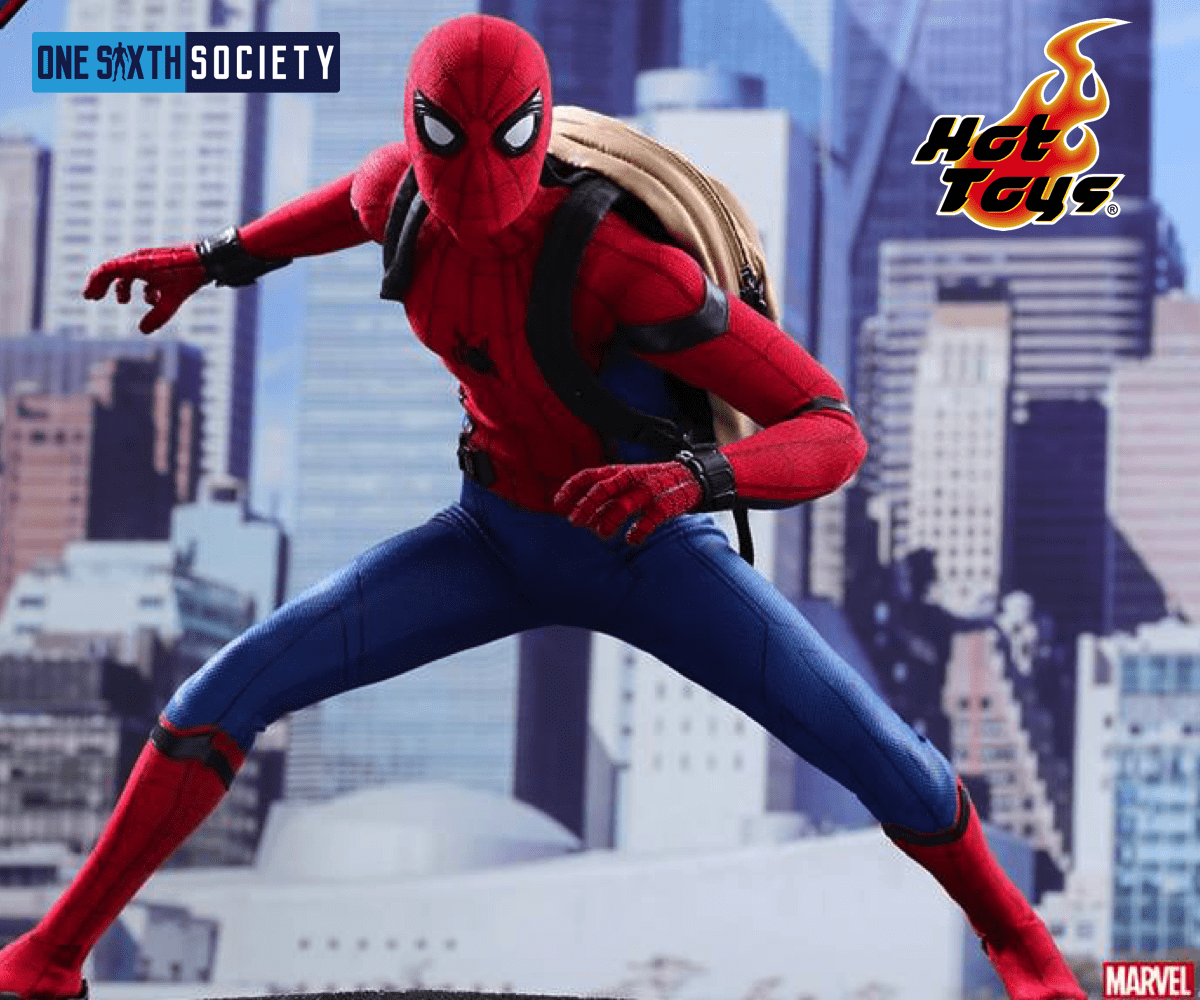 Obviously this is not the first time that Hot Toys has created a figure of Spider-Man. We have had several figures of both the Tobey Macguire and Andrew Garfield, and several iterations of the Spider-Man suit. Many have praised this new design for having some comic influences while still fitting into the Marvel Cinematic Universe. It certainly appears that the cool design elements of the new suit have translated to one sixth scale!
What does Spider-Man come with?
Let's start with the things that both figures come with. Obviously the highlight is Spider-Man in his Tony Stark designed suit. The suit consists of a fabric base, so it will be interesting to see how this fabric compares to the materials from the other film's suits. The masked headsculpt is included of course! It appears that Spider-Man is borrowing something from the Hot Toys Deadpool figure. The eyes on Spider-Man's suit adjust in the film, and for the figure it seems like that effect will likely be achieved with magnetized swappable eyes. Speaking of magnets, Spider-Man's web wings will be attached to the suit via magnets to get the flying effect.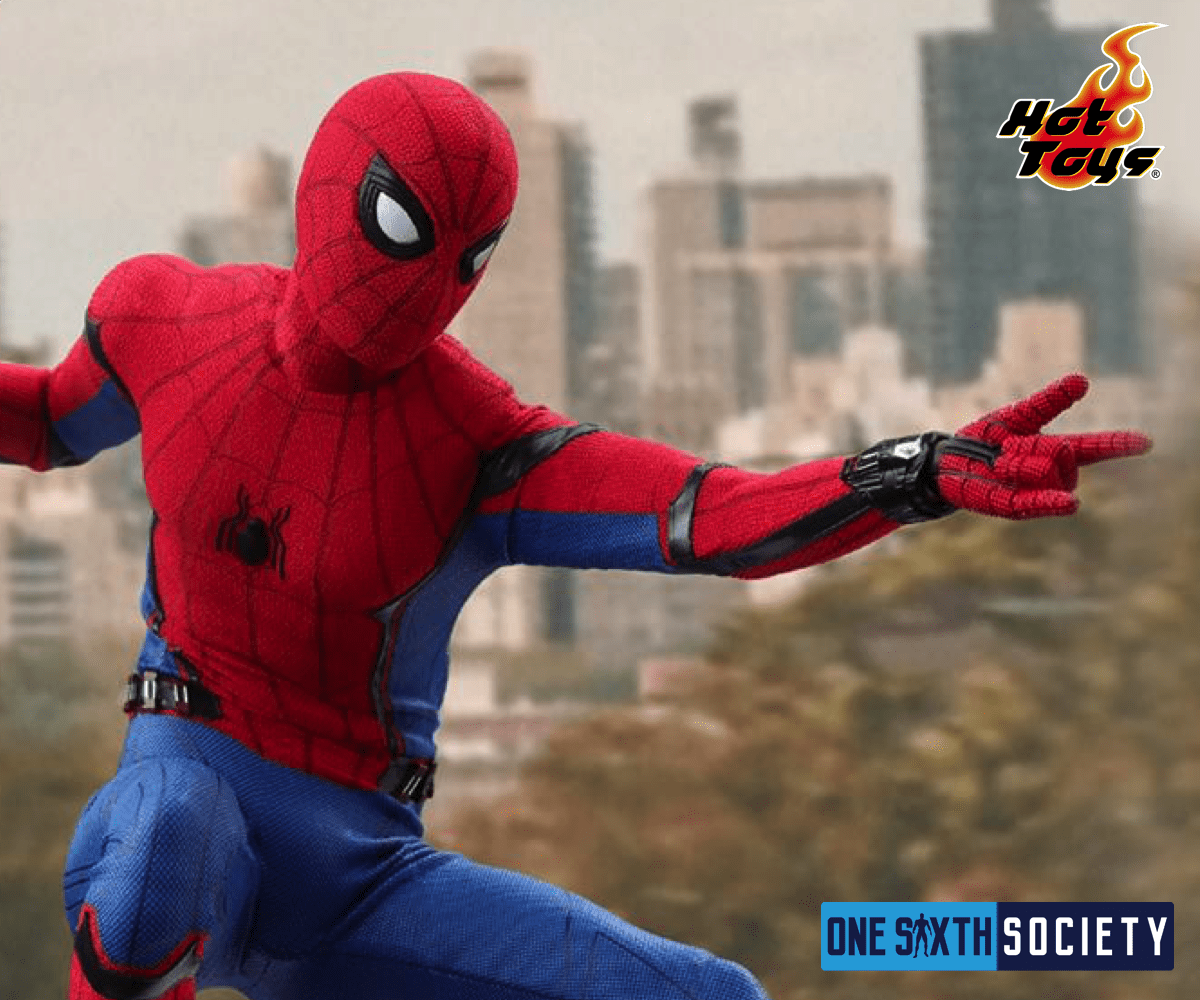 Now the masked headsculpt is to be expected, but he also comes with an unmasked headsculpt. In typical Hot Toys fashion, the face is blurred for one reason or another, but it will be included. If you want to set up your Hot Toys Spider Man Homecoming Figure that way, you can also display him with a hand holding his mask. For other accessories, you will have your typical assortment of hands as well as a stand. Being a high-school student, Peter Parker also comes with a backpack, a pair of headphones, and a science textbook. Finally, he is rounded out by an assortment of web effects, as well as two spider signal stickers.
Now, the Deluxe version!
Now that is quite an assortment of accessories, and the Deluxe Edition includes even more! Seen on the promotional material for the film is Spider-Man wearing a yellow blazer and hoodie over his suit, and those are included in this edition of the figure, as if you do not have enough posing options already! Finally, the Vulture's helmet is included. An interesting choice, and now the release of a Vulture figure is questionable. But, these are some nice additions to the figure for sure.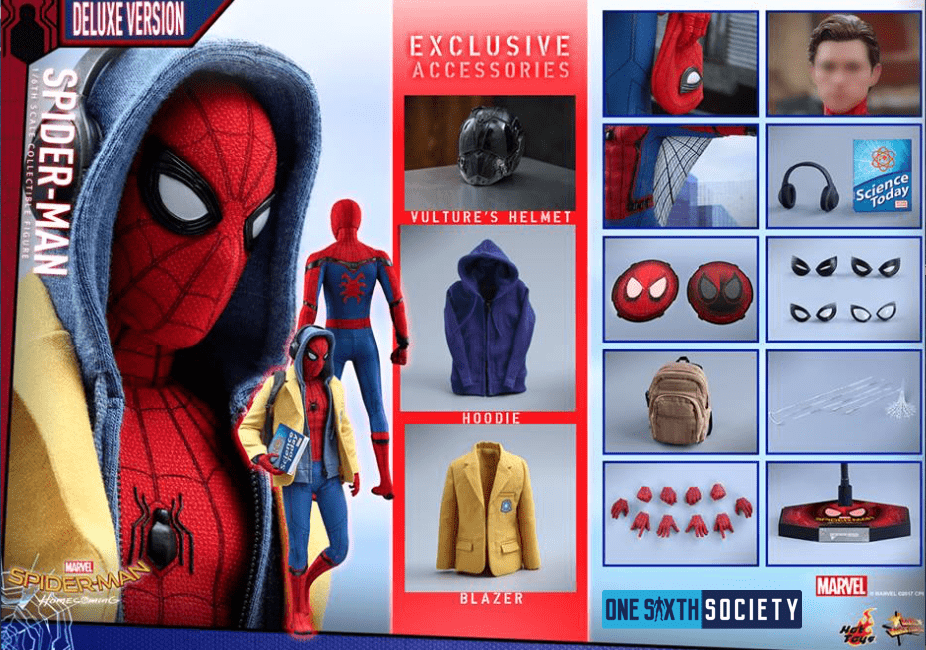 With the film about a month away from release it's nice to see The Hot Toys Spider Man Homecoming Figure finally revealed. Of course, the figure itself is several months away from being released. Of course if you were a fan of Spider-Man in Captain America: Civil War this purchase should be a no-brainer. For some, you may want to wait to see the new film. For others like me, any form of Spider-Man is a must for me.