We wanted to look at 5 Amazing Custom Sixth Scale Figure Artists. Just as a preface, we just wanted to highlight a few of the many talented artists who show their work. These five that we will be discussing are just the first that we will be talking about.
More articles like this one will come in the future as we want to make sure that we highlight as many custom artists as possible. With that said, let's get the spotlight on some of these talented folks!
Rainman Artwork
Rainman Artwork is perhaps the most well-known custom artists, and with good reason! A seriously talented sculptor and painter, Rainman has brought forth a slew of cult film icons. In his earlier years, Rainman created figures like The Dude from the Big Lewbowski, to the very popular Bill The Butcher from Gangs of New York and even Willy Wonka. More recently, Rainmann has been creating figure sets, including multiple characters and parts from various films. This includes films like The Shining, The Exorcist, Psycho, and The Elephant Man. For those interested in smaller parts, you can buy some things separately as well. Whether you are buying a unpainted headsculpt, or a multi-piece set, Rainman Artwork is a great pick.
Beto Matali
It would be quite difficult to have a conversation about one sixth scale horror figures without Lu or Betomatali coming up! Based out of Mexico, the duo has teamed up to create some of the best looking horror themed figures around. You can find more known characters like Jason and Freddy or something a bit more obscure like the Toxic Avenger. Whatever figure it is you will find an astounding level of workmanship and detail.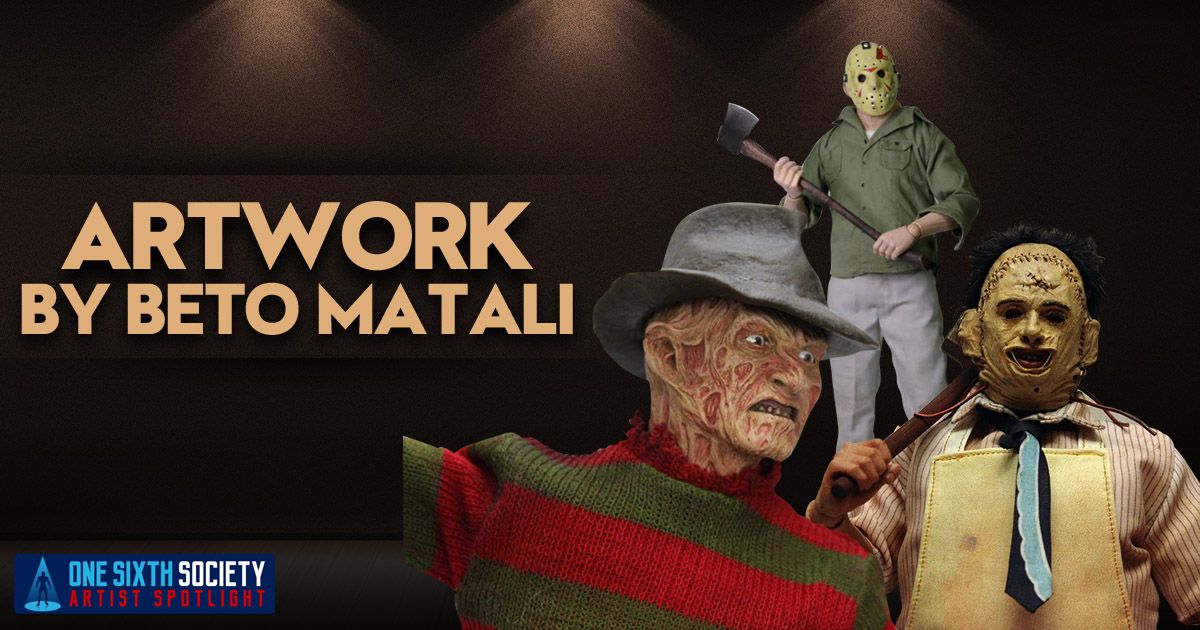 K.Jun Artwork
K,Jun knows what he is doing an he does it exceptionally well. Utilizing his own paint and sculptural skills along with several other artists, K.Jun creates figures from some beloved films. From the thriller I saw the Devil to Fear and Loathing in Las Vegas, K.Jun creates masterpieces. These figures are full of detail, accessories, and in the case of his Forrest Gump figure, even diorama pieces! K.Jun makes it clear that time and dedication to making a figure as accurate as possible really pays off.
Cheung kinmen
Now, we have talked about Cheung Kinmen before on One Sixth Society but we figured a list of custom sixth scale figure artists would not be complete without a mention of Johnny's work. Like some of the other artists on this list, Cheung Kinmen teams up with other artists to create magnificent one sixth scale figures. One of the best sculptors and painters around, he has tackled characters like Teen Wolf and Freddie Mercury, Cheung Kinmen has brought some amazing figures to life!
Cultking
Some of the other artists mentioned team up with tailors or artists to help create their figures, Cultking is a collective. The team is led by Denny Kim and includes the talents of some who have worked in the industry. For example, Mina Yu who had worked for Hot Toys was brought in to sculpt for some projects. As the name implies, films with cult followings are usually tackled. Tarantino films have been done like Pulp Fiction or even Western Classics like The Good, The Bad, The Ugly. Of course, due to the talent behind them these figures come with fantastic sculpts, outfits, and accessories.
As mentioned up top, these by no means are the only 5 custom sixth scale figure artists. Quite the contrary, more people are throwing their hats into the ring all the time.  We are definitely going to highlight more moving forward. Finally, we're pleased to introduce these fine artists and their teams to you! We know that some veteran members are likely familiar, but be sure to pay them a visit and see some of their amazing work!